Updated: 10/25/2020
Shore Scripts has announced their feature screenplay and 1-hour and 1/2-hour TV pilots quarterfinalists. Semifinalists will be announced November 10th
Upcoming Contest Deadlines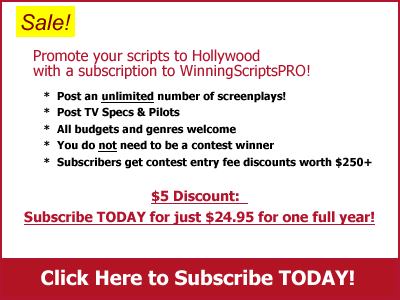 Screenwriting Contest News
Finalists have been announced from among more 1,000 submissions to the HollyShorts Film Festival. The top 3 screenplays will be announced/awarded during the HollyShorts Awards Ceremony on November 15, with the winning script receiving a $10,000 production deal courtesy of Seattle Film Summit. [Updated: 10/24/2020]
The International Screenwriting Association has announced Robert Ripley (The Mender) and Danielle Nicki (The First White President) as their 2020 FAST TRACK XII Fellowship Winners. Genre winners and finalists have also been announced.

[Updated: 10/21/2020]
The winners of the 2020 PAGE International Screenwriting Awards competition have now been announced, and this year's $25,000 Grand Prize was awarded to Claire Tailyour for her haunting, evocative thriller MOTHER WILD. [Updated: 10/15/2020]
The Austin Film Festival has announced their contest finalists. 59 scripts were chosen for the Final Round with one winner to be determined in each of the 18 categories. The winners will be announced during this year's Conference. [Updated: 10/14/2020]
Scriptapalooza has posted video interviews with the top 3 winners of their 2020 Scriptapalooza Feature Screenwriting Contest. [Updated: 10/11/2020]
Henry Sarwer-Foner & Noel Baker have been named the winner of the Filmmatic Comedy Screenplay Awards for their feature screenplay, Dick 2.0, about a Wall Street billionaire facing a divorce who clones himself in order to save his marriage. When he sees how much more his wife loves his duplicate, he must battle his better self to win back his better half. [Updated: 10/07/2020]
Fräulein Schreiber's Mixtape, by Nathan Dame, has been named the Grand Prize Winner of the 2020 Write LA Screenwriting Competition. Finalist and semifinalist loglines have also been released. [Updated: 10/07/2020]
But On Point by Marshall Gillson has been named the Feature/TV Pilot Grand Prize Winner of the Table Read My Screenplay Competition, while Kimberly Truong's The Ride was named the Grand Prize winner for shorts. [Updated: 10/02/2020]
Write LA has announced their 2020 contest finalists, who will each receive targeted promotion through Roadmap Writers extensive network of agents, managers, and producers. The Finalists will also get a free copy of Final Draft 11 courtesy of Final Draft and an additional screenwriting book courtesy of Michael Wiese Productions. [Updated: 10/01/2020]
Five individuals have been selected as winners of the 2020 Academy Nicholl Fellowships in Screenwriting competition. The fellows will each receive a $35,000 prize and be highlighted at the Academy Nicholl Fellowships in Screenwriting Awards and Virtual Table Read on Thursday, December 3, where an ensemble of actors will read selected scenes from the winning scripts. [Updated: 09/30/2020]
The HollyShorts Film Festival has announced semifinalists from a record number of over 1,000 submissions to their 7th annual screenplay contest. [Updated: 09/25/2020]
Contest Finalist?
Subscribe to WinningScripts PRO to put your loglines and script excerpts in front of hundreds of industry professionals. From MovieBytes.com, the Internet's #1 site for screenwriting contest info.
WinningScripts: Hollywood's Best Unproduced Screenplays
Writers: Promote your screenplays with a subscription to WinningScripts Pro!
Hollywood
IQ
News, opinions, interviews and more from Hollywood and the screenwriting contest scene.
Screenplay Contest
Deadline Alert
Final Deadlines
(Displaying final deadlines only. Click here to display preliminary deadlines, as well.)
Final:
10/28/2020
WSPro Discount:
No
October Deadline:
10/29/2020
WSPro Discount:
No
Submit your screenplay contest winners. A FREE service from MovieBytes.
Final:
10/30/2020
WSPro Discount:
No
Final:
10/31/2020
WSPro Discount:
No
Final:
10/31/2020
WSPro Discount:
No
Late:
10/31/2020
WSPro Discount:
$10.00
Winter Discount Deadline:
10/31/2020
WSPro Discount:
No
Final:
11/05/2020
WSPro Discount:
$5.00
Final:
11/06/2020
WSPro Discount:
$10.00
Final:
11/08/2020
WSPro Discount:
No
Extended:
11/12/2020
WSPro Discount:
No
Extended:
11/12/2020
WSPro Discount:
$5.00
Extended:
11/13/2020
WSPro Discount:
No
Final:
11/30/2020
WSPro Discount:
No
Final:
11/30/2020
WSPro Discount:
No
Final:
11/30/2020
WSPro Discount:
No
Final:
11/30/2020
WSPro Discount:
No
Final:
12/05/2020
WSPro Discount:
No
Decision:
12/07/2020
WSPro Discount:
No
Final:
12/09/2020
WSPro Discount:
$5.00
Late:
12/13/2020
WSPro Discount:
$10.00
McCammon:
12/13/2020
WSPro Discount:
$5.00
Last Chance:
12/15/2020
WSPro Discount:
No
Extended:
12/15/2020
WSPro Discount:
No
Final:
12/16/2020
WSPro Discount:
No
Final:
12/18/2020
WSPro Discount:
No
Extended:
12/26/2020
WSPro Discount:
$5.00
Trending: Contest Queue
The following screenwriting competitions are the "most queued" upcoming contests on MovieBytes: