Updated: 10/15/2019
The winners of the 2019 PAGE International Screenwriting Awards contest have now been announced, and this year's $25,000 Grand Prize was awarded to Michael Kogge for his powerful historical biopic ODYSSEY.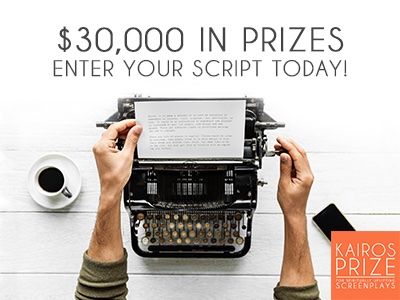 WinningScripts PRO
Spotlight
Script:
Fresh Voices Screenplay Competitition Grand Prize Winner: A small country town in middle America is plagued by a mysterious humming sound that only a percentage of residents can hear...
Screenwriting Contest News
The Scriptapalooza Television Writing Competition has posted video interviews with its top winners. [Updated: 10/17/2019]
The Write/LA Screenwriting Competition has named their 15 semifinalists for 2019. Finalists will be announced on November 1st. [Updated: 10/15/2019]
Scripapalooza has posted video interviews with their 2019 Contest Winners Tuck Tucker, Nick Roberts, and Steven Benedict. [Updated: 10/07/2019]
Semifinalists have been announced for the 2019 ScreamFest Horror Screenplay Competition. [Updated: 10/04/2019]
Fifty quarterfinalists have been announced for the 2019 Write/LA Screenwriting Competition. Fifteen semifinalists will be announced on October 15. [Updated: 10/01/2019]
Annie O'Connell & Reem Edan have been named the winner of the 2019 Filmmatic Comedy Screenplay Awards for their Pilot "The Degenerates". [Updated: 09/27/2019]
The Table Read My Screenplay Competition has announced Rachel Kempf's Dirty Words as the winner of a table read at this year's Austin Film Festival. [Updated: 09/18/2019]
The Austin Film Festival (AFF) has announced their 2019 Script Competition Semifinalists (top 2%) and Second Rounders (top 20%), chosen from a record field of 11,907 scripts entered in the Screenplay, Digital Series, Playwriting, and Fiction Podcast Competitions. Finalists will be revealed by mid-October and the winners will be announced during this year's Conference at the Awards Luncheon on Saturday, October 26 at the new LINE Austin Hotel, overlooking Town Lake downtown. [Updated: 09/16/2019]
The Judges of the 2019 PAGE International Screenwriting Awards have announced the top 10 Finalists in each of the contest's ten genre categories. [Updated: 09/15/2019]
Kerry Kolbe has been named the Winner of the 2019 CineStory Fellowship Competition on the basis of her script Swallow, about a 17-year-old girl who is desperate to study particle physics at Cambridge, like her hero Stephen Hawking. Unfortunately, she's trapped playing parent to her dysfunctional family of twitchers (a/k/a bird watchers), who drag her on a wild chase of her late mother's "spirit animal," a rare albino swallow. [Updated: 09/09/2019]
Partner
Subscribe to
WinningScripts PRO
to put your loglines and script excerpts in front of hundreds of industry professionals. From MovieBytes.com, the Internet's #1 site for screenwriting contest info.
WinningScripts: ScriptLinks
Noticing how many marriages around them fall apart as soon as the kids leave home and fearing that their own marriage has an expiration date, a married couple spends the final year before their impending empty nest discovering who they want to be for the next act in their lives.
Author: Joann Buckley Collins & Eric Olson
Genre: Comedy,Romantic Comedy
America is in violent upheaval, and Amelia Connor will do whatever it takes to get her children out of the country and to safety in Canada. Even if it involves facing down armed raiders, challenging a military order determined stop fleeing citizens, braving the life-threatening dangers of a vast wilderness and, perhaps toughest of all, finding common ground with the ex-husband who unwittingly fueled the movement that caused this chaos.
Author: Joann Collins
Genre: Drama,Action-Adventure,Family
The unsung muse of the Dada art movement of the 1910s was a woman ahead of her time. Thrice married, thrice abandoned, the Baroness Elsa kept rising from ashes. Proto-punk. Performance artist. Feminist. Synesthete. Elsa enthralled and inspired everyone who met her, but remained unknown to the world at large, and died tragically unknown, alone and penniless.
Author: Joann Buckley Collins
Genre: Drama,Historical,Biography
A 'white collar' criminal is shielded by government until a blonde bombshell in stainless steel unleashes the relentless tiger within and with razor-sharp toothed pen, sends him into oblivion.
Author: Patricia Poulos
Genre: Drama,Thriller
The Devil wanders the cold, dark, concrete corridors of dripping black human residue contriving a plan to capture God's chosen-one, for only she, can re-ignite the flames of Hell.
Author: Patricia Poulos
Genre: Fantasy,Horror,Supernatural
A dwarf's plan to save his village lands him in virtual hell but, in order to escape he must depend on a gnome wizard who is literally in hell or join him.
Author: Andy Smullin
Genre: Fantasy,Family,Animation
(Horror): Three lonely misfits, all plagued by different problems with social media, find themselves sucked into a bizarre "bubble" -- a pocket dimension where all the captives are locked in a never-ending battle royale, furiously attacking each other even though it's almost impossible for anyone to die.
Author: Brent Hartinger
Genre: Sci-Fi,Horror,Supernatural
When a wealthy businessman and a waitress (each with an eight year old daughter) get married, they think they have the perfect family-unaware that their two darling angels are actually little menaces.
Author: Mandy Gales
Genre: Comedy,Family
This one is pure Fun.!It's a genre buster, LA LA Land meets James Bond, meets All That Jazz and Cabaret! Asian American Black Belt goes undercover for the CIA, to help track down terrorists. Oh, and did I mention she's the Lead in a Broadway Musical? This is very musical, but there's a lot of action! This one is getting a lot of attention right now! The main Characters reside in New York, they are part of an international terrorist group.
Author: Janet Caulfield
Genre: Drama,Romantic Comedy,Thriller
A Veteran FBI Agent outsmarts a cult of young cyber crooks. The crafty FBI Agent with the help of a New York Company that specializes in security services and equipment, tracks down, hunts and arrests a syndicate of interns working in these cities. It's MAD MEN meets CRIMINAL MINDS.
Author: Janet Caulfield
Genre: Drama,Comedy,Action-Adventure
More WinningScripts ...