Updated: 03/26/2020
The International Screenwriters' Association has announced their 2020 Fast Track XI semifinalists.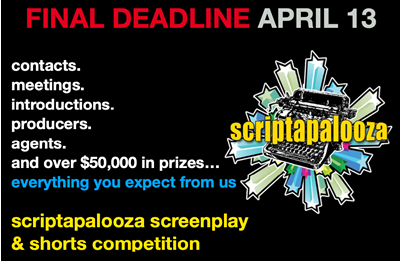 WinningScripts PRO
Spotlight
Script:
A burned out middle-age accountant and a young daredevil woman form an improbable alliance on a dangerous rescue-mission to Mexico. First Place, Screenplay Festival, 2017.
Screenwriting Contest News
Roadmap Writers has named Joey Day Hargrove as the winner of their 2019/2020 Top Tier Competition for her script, Sunny & Hyde. [Updated: 04/01/2020]
Alex Payne's Deepfake has been name the overall winner of the 2019 Launch Pad Feature Screenwriting Competition. [Updated: 03/26/2020]
The BlueCat Screenwriting Competition has announced their 2020 Feature, TV Pilot, and Short Script quarterfinalists. Semifinalists will be announced on April 14th, 2020. [Updated: 03/17/2020]
Tony Cammarata and Dillon Magrann-Wells have been announced as the March Selections for LiveRead/LA, which this month - due to the Covid-19 virus - will feature a March 23rd "closed" reading with Industry Insider Sean Woods. [Updated: 03/13/2020]
Allen Roughton has been named the 1st Place Winner of The Killer Shorts Horror Short Screenplay Competition for his short script AN APPLE A DAY. CJ Whitehead has been named the 2nd Place Winner for THE NO-NO MAN, and Chris Hicks has been named the 3rd Place Winner for THE BUTTER STREET HITCHHIKER. [Updated: 03/13/2020]
Scriptapalooza has anounced a list of producers/managers who will review the contest's 12 winners and 12 finalists. [Updated: 03/10/2020]
Austin Film Festival (AFF) has announced that its original interview series, Austin Film Festival's On Story®, will premiere its 10th season nationwide in April 2020 on public television stations across the country. Available in more than 85% of U.S. markets, including New York, Los Angeles, Dallas, San Francisco, Washington, D.C., and Houston, On Story gives viewers an inside look at the creative process behind some of our most popular and beloved movies and television shows. Season 10 features recorded conversations between acclaimed and award-winning screenwriters, TV creators, and filmmakers from the 26th Annual Austin Film Festival & Conference. [Updated: 03/03/2020]
The Killer Shorts Horror Short Screenplay Competition has announced their 2020 Semi-Finalists, representing approximately the top 5% of all submissions. [Updated: 03/01/2020]
No Overnight Parking by Megan Swertlow has been named the Grand Prize Winner of the 2020 Shoot Your Sizzle Screenwriting Competition. [Updated: 02/25/2020]
Scriptapalooza TV has posted video interviews with a number of their 2020 TV contest winners and finalists. [Updated: 02/22/2020]
The Your Script Produced Screenwriting Contest has announced their second season judges in a two-page spread in the Hollywood Reporter. [Updated: 02/20/2020]
Partner
The Finish Line Competition offers 6+ pages of script development notes to rewrite & resubmit new drafts AT NO EXTRA COST. 42 Industry mentors will read, meet & guide our winners (and semi-finalists!) ENTER TODAY!
www.finishlinescriptcomp.com
Partner
Subscribe to
WinningScripts PRO
to put your loglines and script excerpts in front of hundreds of industry professionals. From MovieBytes.com, the Internet's #1 site for screenwriting contest info.
WinningScripts: ScriptLinks
He tamed the heavens with his discoveries and inventions; enlightened the world with his reason and wit; but Franklin's crowning achievement was fostering a revolutionary legacy called Kingbird. VERY BRIEF SYNOPSIS: The untold 18th century tale of the Philadelphia Franklins, and their struggle to forge an enduring American republic, as the family's revolutionary legacy passes contentiously from patriarch, Ben Franklin, to his namesake grandson.
Author: Don Adams
Genre: Biography
What happens when the vacuum cleaner quits; dust grows, developing limbs, speech, manners; and so Julie battles to save her sanity, and her home from a pair of six foot fuzz balls.
Author: Russell Meyer
Genre: Comedy,Fantasy
The sole survivor of a serial killer, tortured by visions of her ordeal, decides to conduct her own investigation only to realize that her former captor, whom she thought dead, might still be alive and after her.
Author: Kris Lippert
Genre: Thriller,Horror,LGBTQ
Edna May is the retelling of the classic, "A Christmas Carol." Only this time is about the richest woman in Manhattan, Edna May Scrooge. This tale of the Christmas Ghosts that visit Scrooge on Christmas Eve has a twist, a contemporary story with a female Scrooge. She holds true to the character of Scrooge but it is the modern twist that gives the story a new flavor to the classic story.
Author: Byron Snyder
Genre: Fantasy,Family,Supernatural
Green Berets and Marines time-jump to save the 21st century from obliteration by killing a rogue SEAL team bent on rescuing Jesus from the Cross and inadvertently upending history with catastrophic results.
Author: James Sladack
Genre: Action-Adventure,Sci-Fi,Historical
After her parents are murdered, the last dragon whisperer — a 16 yr old grieving teenager named Luana — goes on an epic quest to avenge their deaths and rescue her village from blood-thirsty banshees.
Author: Danielle Erlich
Genre: Action-Adventure,Fantasy,Supernatural
A coming of age story about a boy in Ireland named Lachlan who finds himself in a magical world he never knew existed. Kyros, Lachlan's father, abandoned his son as a young child, and never saw him again. Now Lachlan must deal with the resentment that he feels towards his father while attempting to rescue him on an epic journey.
Author: Danielle R Erlich
Genre: Action-Adventure,Fantasy,Supernatural
This one is pure Fun.!It's a genre buster, Fosse/Verdon meets James Bond, meets All That Jazz and Cabaret! Asian American Black Belt goes undercover for the CIA, to help track down terrorists. Oh, and did I mention she's the Lead in a Broadway Musical? This is very musical, but there's a lot of action! This one is getting a lot of attention right now! The main Characters reside in New York, they are part of an international terrorist group.
Author: Janet Caulfield
Genre: Drama,Romantic Comedy,Thriller
*** Russian astronaut, thrown out of the space program, hijacks a space taxi going to the International Space Station. An intergalactic, time warp, adventure to the future.
Author: janet caulfield
Genre: Thriller,Action-Adventure,Sci-Fi
It's not your mother's buddy movie. It's a combo meal. It's a little bit of Lethal Weapon, Die Hard, The Social Network with a side of Taken. Experienced FBI Agent hires and befriends an internet entrepreneur to help rescue a six year old girl taken hostage in a fall out shelter by a ruthless psychopath. Winner LA film fest Best scene 2017.
Author: Janet Caulfield
Genre: Drama,Thriller,Action-Adventure
More WinningScripts ...