Updated: 10/20/2021
The International Screenwriters Association has announced Denise Meyers and Alan Jenkins their latest Fast Track Fellowship winners. Seven genre competition winners were also announced.
Upcoming Contest Deadlines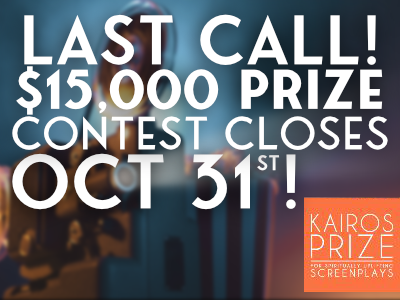 Screenwriting Contest News
Industrial Scripts has announced quarterfinalists in all categories for the 2021 Titan Screenwriting Awards. [Updated: 10/19/2021]
The winners of Reno-Tahoe Screenplay Contest Spring cycle are now in production. [Updated: 10/17/2021]
The winners of The 2021 PAGE International Screenwriting Awards competition have now been announced, and this year's $25,000 Grand Prize has been awarded to A.J. Bermudez for her edgy, contemporary action script ICON. [Updated: 10/17/2021]
The Wine Cellar by Lisa Savy has been named the Best Screenplay of the September, 2021 Wiki Screenplay Contest. Chasing the Dark by Mike Bencivenga was named Best TV Pilot and The Impossible Question by Jeremy Germain was named Best Short Script. [Updated: 10/13/2021]
The Austin Film Festival has announced the 2021 Script Competition Finalists. Sixty-four scripts were chosen for the Final Round with one winner to be determined in each of the 18 categories. The winners will be announced during this year's Conference. [Updated: 10/13/2021]
Mads Gauger and Christan Mary Leonard have been named the Grand Prize Winners of the 2021 Write LA Screenwring Contest for theri TV Pilot, That Woman. [Updated: 10/07/2021]
HollyShorts has named Dummy, by Andrew Kaberline, as the winner of their 2021 Screenplay Competition. [Updated: 10/07/2021]
The Austin Film Festival has announced its 2021 Script Competitions Semifinalists, representing the top 2% of a record field of 14,648 submissions. Finalists will be revealed by mid-October and the winners will be announced during this year's Conference. [Updated: 10/06/2021]
TV Pilot and Feature screenwriting competition Write LA has revealed its top 5 finalists for the 2021 competition. These five writers will now have their scripts read and considered for representation by 5 Literary Management companies: Circle of Confusion, Zero Gravity, Fictional Entity, Grandview and Forward. [Updated: 10/01/2021]
Scriptapalooza has posted video interviews with their top 3 contest winners for 2021. [Updated: 09/29/2021]
The 8th annual HollyShorts Screenplay Contest has announced their Finalist Selections for 2021. Top 3 screenplays will be announced/awarded at the HollyShorts Awards Ceremony and the winning scripts receive production deals courtesy of The Seattle Film Summit and 88th Street Productions. [Updated: 09/17/2021]
Contest Finalist?
Subscribe to WinningScripts PRO to put your loglines and script excerpts in front of hundreds of industry professionals. From MovieBytes.com, the Internet's #1 site for screenwriting contest info.
WinningScripts: Hollywood's Best Unproduced Screenplays
Writers: Promote your screenplays with a subscription to WinningScripts Pro!
Hollywood
IQ
News, opinions, interviews and more from Hollywood and the screenwriting contest scene.
Screenplay Contest
Deadline Alert
Final Deadlines
(Displaying final deadlines only. Click here to display preliminary deadlines, as well.)
Final:
10/25/2021
WSPro Discount:
No
Really Late Extended:
10/26/2021
WSPro Discount:
No
Final:
10/27/2021
WSPro Discount:
No
Extended:
10/30/2021
WSPro Discount:
$5.00
Submit your screenplay contest winners. A FREE service from MovieBytes.
Final:
10/31/2021
WSPro Discount:
No
Final:
10/31/2021
WSPro Discount:
No
Last Call:
10/31/2021
WSPro Discount:
No
RIP:
10/31/2021
WSPro Discount:
$5.00
Final:
10/31/2021
WSPro Discount:
$10.00
Final:
10/31/2021
WSPro Discount:
No
Extended:
10/31/2021
WSPro Discount:
$5.00
Final:
10/31/2021
WSPro Discount:
No
Final:
11/04/2021
WSPro Discount:
$5.00
Start:
11/04/2021
WSPro Discount:
No
Last Chance:
11/09/2021
WSPro Discount:
No
Extended:
11/18/2021
WSPro Discount:
No
Final:
11/19/2021
WSPro Discount:
$5.00
Final:
11/23/2021
WSPro Discount:
No
Final:
11/24/2021
WSPro Discount:
No
Final:
11/26/2021
WSPro Discount:
No
Super Extended:
11/30/2021
WSPro Discount:
No
Final:
11/30/2021
WSPro Discount:
No
Extended:
11/30/2021
WSPro Discount:
No
Final:
11/30/2021
WSPro Discount:
No
Final:
11/30/2021
WSPro Discount:
No
Last Chance:
11/30/2021
WSPro Discount:
No
Final:
12/03/2021
WSPro Discount:
$5.00
Final:
12/09/2021
WSPro Discount:
No
Final:
12/09/2021
WSPro Discount:
No
Late:
12/12/2021
WSPro Discount:
$10.00
Extended Deadline:
12/13/2021
WSPro Discount:
No
Extended Deadline:
12/13/2021
WSPro Discount:
No
Final:
12/16/2021
WSPro Discount:
No
Extended:
12/17/2021
WSPro Discount:
No
Final:
12/18/2021
WSPro Discount:
No
Extended:
12/20/2021
WSPro Discount:
No
Final:
12/22/2021
WSPro Discount:
No
Trending: Contest Queue
The following screenwriting competitions are the "most queued" upcoming contests on MovieBytes: