Updated: 07/10/2019
The Table Read My Screenplay Contest has announced Bonnie Gross, Jasmine Leyva and Anthony Fernandez as the Grand Prize Winners of their "Hollywood" competition.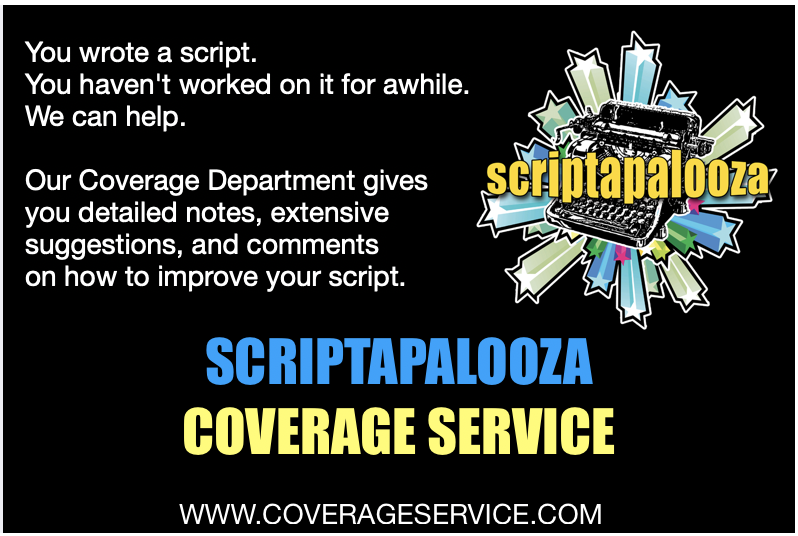 WinningScripts PRO
Spotlight
Script:
An FBI Agent wakes up with no memories in a post-apocalyptic New York City after an unknown catastrophe has annihilated all life on earth. Second Place, Screenplay Festival, 2018.
Screenwriting Contest News
In the lead up to Write/LA's Final Deadline on July 15, the competition has announced two more Industry Insiders who have agreed to each read a finalist script and provide written feedback to the writer. [Updated: 07/10/2019]
Write/LA has announced that their 2019 screenwriting competition winners will be reviewed by Script Pipeline as part of their push to help top writers from all the most respected screenwriting competitions gain more industry access. [Updated: 07/03/2019]
Official Selections have been announced for the 6th Annual HollyShort Film Festival, part of the 15th annual HollyShorts Film Festival (August 8-17th, 2019). [Updated: 06/24/2019]
A Young Man's Game by James Gould-Bourn has been named the Grand Prize Winner of the 2019 Shore Scripts Short Film Fund, and the project has been awarded $10,000 in cash. Miss Fortunate, by Molly O'Shea been named the $4,000 Second Place Winner. [Updated: 06/06/2019]
Filmmatic has named Justin Moran Season 2 Inroads Screenwriting Fellow for his Sci-fi TV pilot, Rust. The script features a crew of hard-luck space miners that happen upon an old shipwreck, launching them into a world of bounty hunters, terrorists, and a mammoth mining conglomerate set on keeping old mistakes buried. [Updated: 05/30/2019]
Shore Films has announced the 15 Finalsts for their 2019 Short Film Fund. Winner will be announced June 6th. [Updated: 05/26/2019]
Quarterfinalists have been announced of the 12th Annual StoryPros Awards Screenplay Contest. [Updated: 05/26/2019]
The Launch Pad competition, in exclusive partnership with Good Fear Film + Management and Romark Entertainment, has announced the top 10 finalists for the 2018/2019 Launch Pad feature competition. [Updated: 05/22/2019]
[Updated: 05/22/2019]
Partner
Subscribe to
WinningScripts PRO
to put your loglines and script excerpts in front of hundreds of industry professionals. From MovieBytes.com, the Internet's #1 site for screenwriting contest info.
WinningScripts: ScriptLinks
BAD LISTING (Thriller/Horror): When Cleo rents a "shared" Airbnb unit, she worries the other guest, Jack, has a dark secret. But there's much more going on in this apartment than even Cleo or Jack suspect. A small-cast, minimal-location script. Also the 2nd place winner at WriteMovies.com (among other honors), written by a multi-produced screenwriter.
Author: Brent Hartinger
Genre: Thriller,Horror,Supernatural
They're commercial free. They're free to talk. They work for free. There's not enough money to make them go away. They're on a mission… to free sports radio.
Author: James Palmer
Genre: Comedy,Thriller,Sports
A pocket-sized alien prince travels to Earth to open relations, only to discover his cousin is plotting his assassination to steal the crown and achieve galactic domination, starting with Earth.
Author: Joe Borriello
Genre: Action-Adventure,Sci-Fi,Fantasy
A grumpy Jake and his bright-eyed 12 year old neighbor Lucy rise from their sick beds to find everyone around them has become zombies as a result of an alien attack, and inadvertently become the world's only hope of salvation.
Author: Joe Borriello
Genre: Action-Adventure,Sci-Fi,Horror
Set in 1970, this rainforest tale follows a damaged son who escapes his violent father by taking a dangerous logging job. Still strongly connected to his past, his life becomes intertwined with a healing Indigenous family, a mentor, a twisted employer and workplace thugs, an alluring lover, and an old school homicide detective, staging the surprising and dramatic final scenes.
Author: alfred cool
Genre: Drama,Action-Adventure,Historical
To save his life, a guy held hostage by the Russian mafia must find out who ordered the robbery of a 4 million dollar pair of cufflinks.
Author: Gustavo Freitas
Genre: Drama,Thriller
During the Cold War, an aging Intelligence Officer addicted to anxiolytics must lead a rogue team of spies to investigate a US ambassador involved in a conspiracy in Brazil. Based on historical events.
Author: Gustavo Freitas
Genre: Drama,Thriller,Action-Adventure
A lovable Asian fool in Los Angeles bumbles through life unable to get anything right, then is thrust into a position of being the only man who can save the world from nuclear holocaust.
Author: James Day
Genre: Comedy,Action-Adventure
When a troubled girl's visions of her classmates' murders start coming true, she suspects her father is the killer.
Author: Danny Howell
Genre: Horror,Supernatural
A college-age fast food manager's virginity makes him a target of a cult of "living meat" eaters masquerading as workers. If one if them tricks him into eating the
Author: Danny Howell
Genre: Comedy,Romantic Comedy,Horror
More WinningScripts ...