Updated: 02/14/2019
Scriptapalooza TV has announced their latest Pilot, Sitcom, One-Hour Drama and Reality Category winners.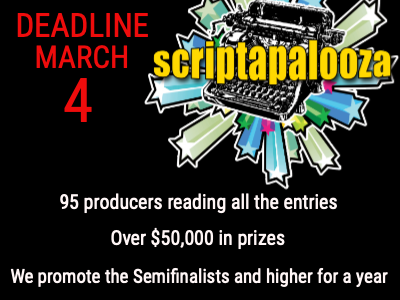 WinningScripts PRO
Spotlight
Script:
Fresh Voices Screenplay Competitition Grand Prize Winner: A small country town in middle America is plagued by a mysterious humming sound that only a percentage of residents can hear...
Screenwriting Contest News
CineStory has announced their 2019 Spec Drama, Spec Comedy, Original Drama and Original Comedy category winners. The first place winner of each division is now in the running for this year's TV Fellowship, which includes a $1,000 cash prize, free tuition and housing for this year's TV retreat, and a 12-month mentorship with 2 Hollywood professionals hand-picked to help the Fellow advance the Fellow's craft and career. [Updated: 02/14/2019]
TVWriter.com has announced the semifinalists for the 27th People's Pilot competition. Finalists will be announced in two weeks. [Updated: 02/13/2019]
The LAUNCH Million Dollar Screenplay Competition has announced it will accept global submissions for its second million-dollar screenplay competition from Friday, February 1st through Tuesday, April 30th, 2019. Once again, The LAUNCH will be looking for original screenplays with captivating stories, unique voices and honest emotion in any genre. The international competition is open to students over the age of 18 who are enrolled in an accredited two-year, four-year college/university or graduate program. [Updated: 02/11/2019]
The Austin Film Festival (AFF) and HUMANITAS have joined forces to launch the inaugural "HUMANITAS Originals Award". This joint initiative is a new addition to AFF's Script Competitions and is open to both feature screenplays and teleplay pilots that reflect the kinds of stories HUMANITAS has honored for over four decades. [Updated: 02/06/2019]
A Boy A Man and A Kite by Adam Matalon & Stephen Endelman, 2017 Scriptapalooza Shorts finalist, has been produced and will screen on 2/15/2019 at Regal Cinema LA Live. [Updated: 02/06/2019]
The Motion Picture Academy's Nicholl Fellowships in Screenwriting is now accepting submissions. Early deadline in March 7, 2019, with a $45 entry fee. [Updated: 02/05/2019]
Gorby and Ronnie Do Reykjavík, by Patrick Connely, has been named the overall winner of the TrackingB Screenwriting Competition. [Updated: 01/31/2019]
Fresh Voices has announced the quarterfinalists of the 2018-2019 Fresh Voices Screenwriting Competition. Semifinalists will be announced March 7th, 2019. [Updated: 01/31/2019]
Finalists have been announced in the original and spec categories of the CineStory TV Writing Competition. [Updated: 01/31/2019]
Grace by Night, by Nathan Leon, has been named the winner of the $15,000 Kairos Prize for Beginning Screenwriters. Mingo Road by Paul Cooper was the "pro" category winner among established filmmakers. The Kairos Prizes are presented annually by Movieguide, and award $15,000 to each winner whose work "greatly increases man's love or understanding of God." [Updated: 01/29/2019]
The HBO Access Writing Fellowship provides mentorship for up to 8 diverse, emerging storytellers. Following a one-week intensive of master classes, participants are immersed in 8 months of mentoring by HBO creative executives, as each participant develops a script suitable for HBO or Cinemax. [Updated: 01/28/2019]
Partner
Subscribe to
WinningScripts PRO
to put your loglines and script excerpts in front of hundreds of industry professionals. From MovieBytes.com, the Internet's #1 site for screenwriting contest info.
WinningScripts: ScriptLinks
When a troubled girl's visions of her high school classmates' murders start coming true, she suspects her father is the killer.
Author: Danny Howell
Genre: Horror,Supernatural
Paul, 15, makes a discovery that could be his ticket out of his oppressive life in southern Indiana, but taking it means leaving his younger brother behind.
Author: Danny Howell
Genre: Drama,Family
A pocket-sized alien prince travels to Earth to open relations, only to discover his cousin is plotting his assassination to steal the crown and achieve galactic domination, starting with Earth.
Author: Joe Borriello
Genre: Sci-Fi,Fantasy,Family
A Mohawk shaman summons Mitchell into a magical parallel dimension that shares the same polluted sky and sends him on a mission to solve global warming.
Author: Jamie Sutliff
Genre: Fantasy,Animation
God chooses a young woman to be his Warrior in a battle for others but fails to warn her of the dangers lurking.
Author: Patricia Poulos
Genre: Drama,Thriller,Fantasy
As a school-boy kicks a pebble along a magical beach he's mesmerized by an apparition which materializes into the girl of his dreams.
Author: Patricia Poulos
Genre: Family,Romance
A businesswoman is labelled 'terrorist' when she makes interest-free loans to ravaged farmers in her fight to prevent murder/suicides on the land.
Author: Patricia Poulos
Genre: Drama,Thriller
The Doors to God's Miracles are flung open wide transcending a young woman into the Universe to return with supernatural powers, miracles - and God speaks.
Author: Patricia Poulos
Genre: Fantasy,Family,Supernatural
A blonde bombshell in stainless steel collides with the nation's most corrupt and powerful man sending him into oblivion and shock-waves throughout the corporate world.
Author: Patricia Poulos
Genre: Drama,Thriller
When God's Chosen-one refuses The Devil as himself, he inhabits the body of a dead-man and hides his face in a Judge's full-bottom wig to petrify her into submission.
Author: Patricia Poulos
Genre: Fantasy,Horror,Supernatural
More WinningScripts ...