Updated: 04/19/2019
Emerging Screenwriters has announced the Top 100 scripts of their 2019 Shoot Your Sizzle Screenwriting Competition.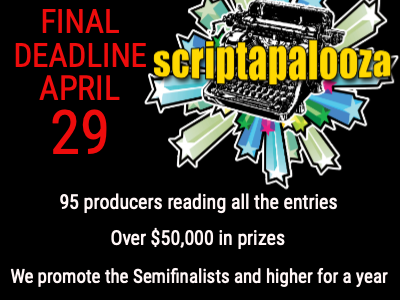 WinningScripts PRO
Spotlight
Script:
An FBI Agent wakes up with no memories in a post-apocalyptic New York City after an unknown catastrophe has annihilated all life on earth. Second Place, Screenplay Festival, 2018.
Screenwriting Contest News
Women reigned victorious at the 2018-19 Fresh Voices Screenplay Competition this week with an all-star group of talented female writers dominating both the Drama and Family Film Categories. Leading them all, it was Skye Emerson's historical drama, CHALLENGER, that wowed the jury and took home the Grand Prize Award. [Updated: 04/12/2019]
ScreenCraft has announced the quarterfinalists from among roughly 2,500 submissions to their 2019 ScreenCraft Fellowship Competition. [Updated: 04/11/2019]
BlueCat has announced their 2019 Feature, TV, and Short Script semifinalists. [Updated: 04/11/2019]
Fresh Voices Screenplay Competition has named their 2018-19 Contest Finalists and Spotlight Award Nominees. [Updated: 04/01/2019]
A newly launched division of the Scriptapalooza Screenwriting Competition is now producing films utilizing the organization's relationships to attach funds and talent. [Updated: 03/27/2019]
The BlueCat Screenwriting Competition has announced quarterfinalists for their 2019 Feature, Short, and TV pilot contests. [Updated: 03/26/2019]
Austin Film Festival and Rooster Teeth are partnering to launch the Inaugural "Rooster Teeth Fellowship Award" to be presented at the 26th Annual Austin Film Festival. This new award will be available in conjunction with AFF's existing Script Competitions and is open to all scripted submissions that embody the Rooster Teeth genre. [Updated: 03/19/2019]
Scriptation, the company behind the popular script app used on film and television productions worldwide, opened the call for submissions for its new screenwriting competition, the Scriptation Showcase. Fifteen winners' scripts will be featured for a full year in Scriptation, giving them unprecedented exposure to Hollywood professionals. [Updated: 03/12/2019]
Semifinalists have been announced for the 2018-19 Fresh Voices Screenwriting Competition. [Updated: 03/07/2019]
THE BOOK OF JOEY by Steven Block has been named the TVWriter.com People's Pilot Comedy category winner, while THE FUCKING NEW GUYS by Meredith Bagby took top honors in the Drama/Action category. [Updated: 03/06/2019]
CineStory Co-Executive Director Carlo Martinelli catches up with the 2018 CineStory Fellowship second place winner, Avishai Weinberger. [Updated: 03/05/2019]
Partner
allows you to rewrite and resubmit for free!
We offer 6+ pages of script development notes to improve your drafts and have 35+ top Film & TV Mentors who will read, meet & guide our winners! Huge industry access to all entrants. enter today!
www.finishlinescriptcomp.com
Partner
Subscribe to
WinningScripts PRO
to put your loglines and script excerpts in front of hundreds of industry professionals. From MovieBytes.com, the Internet's #1 site for screenwriting contest info.
WinningScripts: ScriptLinks
A college guy's virginity makes him a target of a cult of "living meat" eaters masquerading as fast food workers.
Author: Danny Howell
Genre: Comedy,Romantic Comedy,Horror
A young killer saves a girl's life. The two teenagers fall in love. Adult jealousy, however, threatens their love. Worse, death once again threatens their lives.
Author: Con Kringas
Genre: Romance
A girl lost in the Alaskan wilderness meets her banished pet tiger — now fully grown. Together they survive many challenges — except, perhaps, one another.
Author: Con Kringas
Genre: Action-Adventure
An FBI agent goes to any length to save his family.
Author: Con Kringas
Genre: Action-Adventure
A dream holiday becomes nightmarish when a family encounters a malicious wolf and traders in fresh human organs.
Author: Con Kringas
Genre: Horror
Holiday-makers on a beautiful island resort find themselves trapped with a murderous clown.
Author: Con Kringas
Genre: Horror
A Floridan town's past neglect of a beggar becomes its present terror.
Author: Con Kringas
Genre: Horror
2056: a new world order. Four prisoners attempt to escape execution by exploiting the judge's weakness for one of them.
Author: Con Kringas
Genre: Fantasy
Captained by a former death-row inmate, security in the shaky hands of a lush, spiritual guidance by a pastor who loves riddles, with passengers including a murderous boxer, a self-deluded and corrupt martial artist, madcap teenagers and a ferocious would-be serial killer — come on board for the cruise of a lifetime.
Author: Con Kringas
Genre: Thriller,Family
GENRES: Thriller, Crime "Bones" meets "The Following" Pilot Log Line: A woman is forced to reconcile for the negligent deaths of two girls or die at the hands of a mysterious male voice over a prepaid phone and his chipper, pixie helper. Season One Log Line: After surviving a self-inflicted mutilation, the first victim of enigmatic serial killer, searches for allies, while flirting a *dangerous liaison with her attacker.
Author: Mike W. Rogers
Genre: Thriller,Horror
More WinningScripts ...