Updated: 01/17/2020
LiveRead/LA has named Natalie Higdon and Mads Gauger & Christan Mary Leonard as the winners of their next live read, to be held Monday, January 27th at 7.30pm at the Matrix Theatre in West Hollywood. MovieBytes readers are eligible for a $5 discount for the reading and the Q&A afterwards.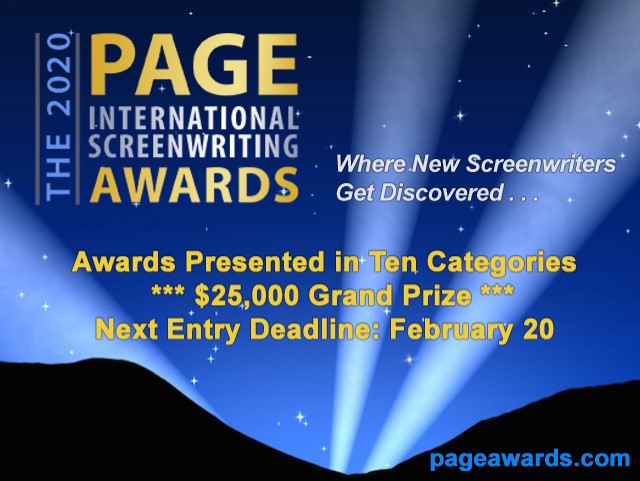 WinningScripts PRO
Spotlight
Script:
A burned out middle-age accountant and a young daredevil woman form an improbable alliance on a dangerous rescue-mission to Mexico. First Place, Screenplay Festival, 2017.
Screenwriting Contest News
Tracking Board has announced the 100 Finalists for the 2019 Launch Pad Feature Competition. [Updated: 01/16/2020]
The People's Pilot has announced their 2019 Comedy and Drama Semifinalists. [Updated: 01/13/2020]
[Updated: 01/11/2020]
Screenwriting contests are not a one-size-fits-all affair. While there are obvious benefits to winning a huge and prestigious competition like the Nicholl Fellowships, smaller contests can be just as valuable if they hook you up with a judge who wants to option your screenplay, or a manager who wants to represent your work. [Updated: 12/31/2019]
Survivors: B.S. by Julia Skikavich has been named the winner of the 2019 Emerging Screenwriter Award, and 7 other writers have also been honored for genre-winning scripts. [Updated: 12/20/2019]
Noah Kloor's Grand Illusions has been named the Overall Winner of the 2019 Launch Pad Pilot Competition for his period drama about a young factory worker longing to escape her difficult life who is drawn inexorably into the glamorous and dangerous world of a touring illusionist and his troupe. [Updated: 12/16/2019]
Cinestory TV has announced the quarterfinalists in their Original Drama, Comedy and Sci-Fi Categories, and the semifinalists in their Family category. The next round of results will be announced in mid-January. [Updated: 12/16/2019]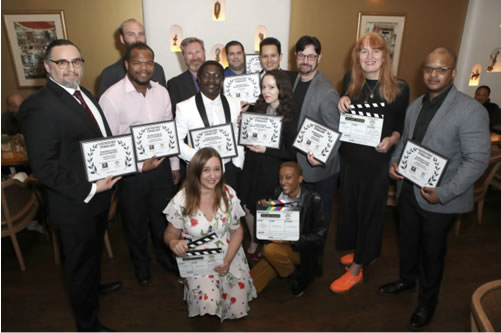 Your script Produced! International Film/TV/Short Screenplay Competition inaugural 2019 Season 1 Awards Dinner in Beverly Hills, CA November 8, 2019. [Updated: 12/05/2019]
Partner
Subscribe to
WinningScripts PRO
to put your loglines and script excerpts in front of hundreds of industry professionals. From MovieBytes.com, the Internet's #1 site for screenwriting contest info.
WinningScripts: ScriptLinks
This one is pure Fun.!It's a genre buster, Fosse/Verdon meets James Bond, meets All That Jazz and Cabaret! Asian American Black Belt goes undercover for the CIA, to help track down terrorists. Oh, and did I mention she's the Lead in a Broadway Musical? This is very musical, but there's a lot of action! This one is getting a lot of attention right now! The main Characters reside in New York, they are part of an international terrorist group.
Author: Janet Caulfield
Genre: Drama,Romantic Comedy,Thriller
Kids and their dogs, find the rainbow bridge in a snowstorm. They teleport, fly, zoom through tunnels, and levitate, around this heaven-like universe.They have a lot of fun, but get a few surprises along the way, from messages, and musical communication with angels and whales....to a run in with a demon. They meet up with their recently departed Grandfather, and his dog, who helps them return home.
Author: janet caulfield
Genre: Fantasy,Supernatural,Animation
It's not your mother's buddy movie. It's a combo meal. It's a little bit of Lethal Weapon, Die Hard, The Social Network with a side of Taken. Experienced FBI Agent hires and befriends an internet entrepreneur to help rescue a six year old girl taken hostage in a fall out shelter by a ruthless psychopath. Winner LA film fest Best scene 2017.
Author: Janet Caulfield
Genre: Drama,Thriller,Action-Adventure
*** Russian astronaut, thrown out of the space program, hijacks a space taxi going to the International Space Station. An intergalactic, time warp, adventure to the future.
Author: janet caulfield
Genre: Thriller,Action-Adventure,Sci-Fi
A Veteran FBI Agent outsmarts a cult of young cyber crooks. The crafty FBI Agent with the help of a New York Company that specializes in security services and equipment, tracks down, hunts and arrests a syndicate of interns working in these cities. It's MAD MEN meets CRIMINAL MINDS.
Author: Janet Caulfield
Genre: Drama,Comedy,Action-Adventure
A disgruntled Manager at the Unemployment office is having a really bad day. First there's the dirty Geese, then the slobs in the parking lot...and to top it off? One of his employee's is feeding them! It's a comedy expressso. A bold blend of "The Office and Seinfield with a shot of "How I met Your Mother."
Author: janet caulfield
Genre: Comedy
Locusts invade the building, the adherence schedules are off kilter, and one of the night managers is watching TV and preaching the word. Meet the staff of the Call Center where "the prisoners run the prison". But it's just a cup of coffee, for the merry go round of Managers in this wacky environment
Author: Janet Caulfield
Genre: Drama,Comedy
An inspirational drama about a disabled dog who assists a recently disabled young athlete find renewed purpose in his life.
Author: Joseph Leone
Genre: Drama,Family,Sports
A mysterious shadow organization launches the political career of a dynamic woman, pre-destined to change the world. Yet, this same organization has other plans, as it conspires with the VP candidate to take her out, and overthrow the country.
Author: Joseph Leone
Genre: Thriller,Sci-Fi
When a wealthy businessman and a waitress (each with an eight year old daughter) get married, they think they have the perfect family-unaware that their two darling angels are actually little menaces.
Author: Mandy Gales
Genre: Comedy,Family
More WinningScripts ...