Updated: 07/20/2019
CineStroy has announced 26 semifinalists for their 2019 Feature Fellowship Competition. Semifinalists will be invited to attend this year's feature retreat, which takes place on October 19th – October 22nd. Attendees receive three 90-minute one-on-one sessions with CineStory mentors. Attendees also participate in mentor-run informal rooms on topics ranging from "Pitching Like a Pro" to "The State of Filmmaking in the Digital Age."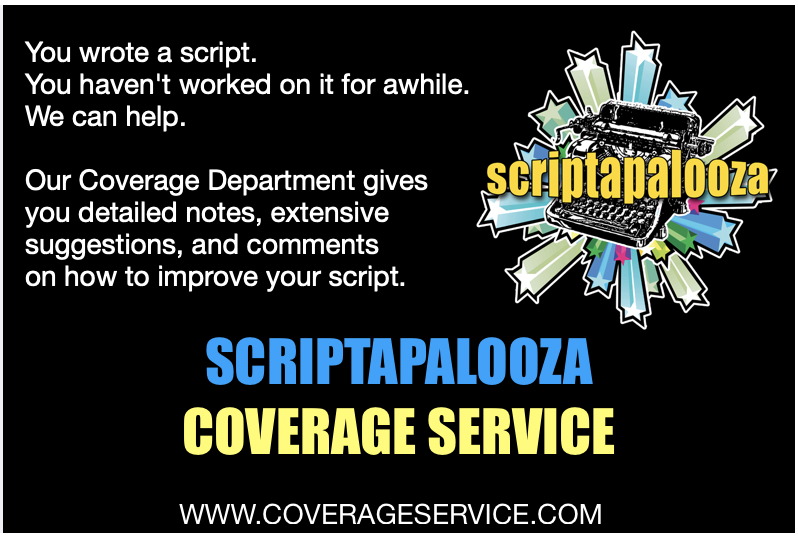 WinningScripts PRO
Spotlight
Script:
A burned out middle-age accountant and a young daredevil woman form an improbable alliance on a dangerous rescue-mission to Mexico. First Place, Screenplay Festival, 2017.
Screenwriting Contest News
In the lead up to Write/LA's Final Deadline on July 15, the competition has announced two more Industry Insiders who have agreed to each read a finalist script and provide written feedback to the writer. [Updated: 07/10/2019]
The Table Read My Screenplay Contest has announced Bonnie Gross, Jasmine Leyva and Anthony Fernandez as the Grand Prize Winners of their "Hollywood" competition. [Updated: 07/10/2019]
Write/LA has announced that their 2019 screenwriting competition winners will be reviewed by Script Pipeline as part of their push to help top writers from all the most respected screenwriting competitions gain more industry access. [Updated: 07/03/2019]
Official Selections have been announced for the 6th Annual HollyShort Film Festival, part of the 15th annual HollyShorts Film Festival (August 8-17th, 2019). [Updated: 06/24/2019]
A Young Man's Game by James Gould-Bourn has been named the Grand Prize Winner of the 2019 Shore Scripts Short Film Fund, and the project has been awarded $10,000 in cash. Miss Fortunate, by Molly O'Shea been named the $4,000 Second Place Winner. [Updated: 06/06/2019]
Filmmatic has named Justin Moran Season 2 Inroads Screenwriting Fellow for his Sci-fi TV pilot, Rust. The script features a crew of hard-luck space miners that happen upon an old shipwreck, launching them into a world of bounty hunters, terrorists, and a mammoth mining conglomerate set on keeping old mistakes buried. [Updated: 05/30/2019]
Shore Films has announced the 15 Finalsts for their 2019 Short Film Fund. Winner will be announced June 6th. [Updated: 05/26/2019]
Quarterfinalists have been announced of the 12th Annual StoryPros Awards Screenplay Contest. [Updated: 05/26/2019]
The Launch Pad competition, in exclusive partnership with Good Fear Film + Management and Romark Entertainment, has announced the top 10 finalists for the 2018/2019 Launch Pad feature competition. [Updated: 05/22/2019]
Partner
Subscribe to
WinningScripts PRO
to put your loglines and script excerpts in front of hundreds of industry professionals. From MovieBytes.com, the Internet's #1 site for screenwriting contest info.
WinningScripts: ScriptLinks
A PTSD damaged high school teacher returns to the classroom after a two year absence and finds himself fighting a political war with a duplicitous superintendent.
Author: Kevin Brodie
Genre: Drama
A lonely school teacher who discovers his deceased father's closeted homosexuality finds he is unable to cope with his own insecurities and his family's prejudices—prompting an all consuming obsession with returning his father's ashes to his British birthplace.
Author: Kevin Brodie
Genre: Drama
A combative college professor accused of Holocaust denial tries to clear his name and repair the strained relationship with his teenage daughter before the scandal irreparably widens the chasm between them.
Author: Kevin Brodie
Genre: Drama
A misanthropic animal shelter owner allows himself to fall for a woman he thinks he can trust--unaware she's a disguised pop star desperately searching for meaning in her own life.
Author: Kevin Brodie
Genre: Romantic Comedy
A Kurdish escapee from an honor killing is imprisoned in a detention center, from which she must find the strength to resist her captors and gain freedom--forcing a confrontation with the brother that still wants her dead.
Author: Kevin Brodie
Genre: Drama,Thriller,Romance
In the late 1800s, a mysterious Man is admitted at a Middle-Eastern monastery and starts to reveal new concepts of God, life, and love, which manages to make disciples of the monks, but also arouses the furious reaction of the local materialistic abbot.
Author: Roberto Junqueira
Genre: Drama
When a series of grisly murders in Warsaw is linked to the disappearance of a Russian physicist with a portable atomic bomb, an FBI agent is sent to help the investigation, and the race is on to find him and the bomb before it ends up in the wrong hands.
Author: Timothy Jay Smith
Genre: Drama,Thriller,LGBTQ
When an arsonist threatens a Greek island village, the FBI agent stationed in Athens arrives to investigate, finds himself immersed in a community rife with conflict, falls in love with his chief suspect, and saves the village with only seconds to spare after miscalculating the plan of attack.
Author: Timothy Jay Smith
Genre: Drama,Thriller,LGBTQ
A Special Ops soldier, whose grief over the loss of a son has torn his family apart, takes them on a vacation hoping to relive happier times, when a perilous situation forces them to pull together to survive. Ordinary People meets Straw Dogs in this Hitchcockian thriller.
Author: Timothy Jay Smith
Genre: Drama,Thriller,Horror
When a Mossad agent discovers he has assassinated a Palestinian politician falsely accused of terrorist ties, he risks his job, marriage and ultimately his life to help the man''s family. QUARTERFINALIST, NICHOLL FELLOWSHIPS WINNER, AMERICAN SCREENWRITERS ASSOCIATION
Author: Timothy Jay Smith
Genre: Drama,Thriller,Action-Adventure
More WinningScripts ...