Updated: 03/19/2019
Austin Film Festival and Rooster Teeth are partnering to launch the Inaugural "Rooster Teeth Fellowship Award" to be presented at the 26th Annual Austin Film Festival. This new award will be available in conjunction with AFF's existing Script Competitions and is open to all scripted submissions that embody the Rooster Teeth genre.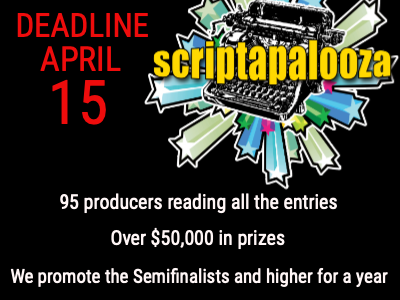 WinningScripts PRO
Spotlight
Script:
Fresh Voices Screenplay Competitition Grand Prize Winner: A small country town in middle America is plagued by a mysterious humming sound that only a percentage of residents can hear...
Screenwriting Contest News
Scriptation, the company behind the popular script app used on film and television productions worldwide, opened the call for submissions for its new screenwriting competition, the Scriptation Showcase. Fifteen winners' scripts will be featured for a full year in Scriptation, giving them unprecedented exposure to Hollywood professionals. [Updated: 03/12/2019]
Semifinalists have been announced for the 2018-19 Fresh Voices Screenwriting Competition. [Updated: 03/07/2019]
THE BOOK OF JOEY by Steven Block has been named the TVWriter.com People's Pilot Comedy category winner, while THE FUCKING NEW GUYS by Meredith Bagby took top honors in the Drama/Action category. [Updated: 03/06/2019]
CineStory Co-Executive Director Carlo Martinelli catches up with the 2018 CineStory Fellowship second place winner, Avishai Weinberger. [Updated: 03/05/2019]
The People's Pilot television writing contest, from TVWriter.com, has announced the finalists of their 27th competition. [Updated: 02/27/2019]
Twelve producers have requested to read Scriptapalooza TV's recently announced contest winners. [Updated: 02/26/2019]
Robert Axelrod has been named the 2019 CineStory TV Fellow for his winning episodic spec comedy script BETTER THINGS - "Goy Vey", which impressed the judges by capturing the tone of the show while also showcasing the writer's own voice. [Updated: 02/22/2019]
Greg Silverman's new media company Stampede is partnering with the HollyShorts Film Festival, the Los Angeles-based short film festival, on a first-look feature film and TV series development program. (From the Hollywood Reporter.) [Updated: 02/19/2019]
CineStory has announced their 2019 Spec Drama, Spec Comedy, Original Drama and Original Comedy category winners. The first place winner of each division is now in the running for this year's TV Fellowship, which includes a $1,000 cash prize, free tuition and housing for this year's TV retreat, and a 12-month mentorship with 2 Hollywood professionals hand-picked to help the Fellow advance the Fellow's craft and career. [Updated: 02/14/2019]
Scriptapalooza TV has announced their latest Pilot, Sitcom, One-Hour Drama and Reality Category winners. [Updated: 02/14/2019]
TVWriter.com has announced the semifinalists for the 27th People's Pilot competition. Finalists will be announced in two weeks. [Updated: 02/13/2019]
Partner
allows you to rewrite and resubmit for free!
We offer 6+ pages of script development notes to improve your drafts and have 35+ top Film & TV Mentors who will read, meet & guide our winners! Huge industry access to all entrants. enter today!
www.finishlinescriptcomp.com
Partner
Subscribe to
WinningScripts PRO
to put your loglines and script excerpts in front of hundreds of industry professionals. From MovieBytes.com, the Internet's #1 site for screenwriting contest info.
WinningScripts: ScriptLinks
When a platoon of Marines burn a shack built from human bones to the ground, they will have till sunrise to rebuild the house or die gruesome deaths from a witches curse.
Author: Michael Rogers
Genre: Horror
When a meteor brings the mythical underworld back to the surface, a newly elected president and his executive staff will crew the Area 51 spacecraft to collect five women from antiquity to prevent the enslavement of mankind.
Author: Michael Rogers
Genre: Action-Adventure,Sci-Fi
A newly appointed female detective will have to confront her estranged family and there connection to the occult, so to locate three kidnapped girls before they are sacrificed to a demonic entity.
Author: Michael Rogers
Genre: Horror,Supernatural
When a student with the power of astral projection is blamed for the death of a female research scientist, a pharmaceuticals maker offers him refuge but ultimately looks to manipulate his abilities for his own gain.
Author: Michael Rogers
Genre: Thriller
While competing in a virtual reality video game tournament, a tomboy, gamer girl is transported to a parallel universe where she must enlist the help of five woman warriors to defeat the games big boss or be stuck in the game forever.
Author: Michael Rogers
Genre: Action-Adventure,Sci-Fi
For an eighteen year old girl to stay off heroin, she will need the help of her friends at the diner. It also has a good view of her stoned mother works the corner.
Author: Michael Rogers
Genre: Drama
When a single mother believes her family is being hunted, she takes her daughter and elderly mother on the run. But no one can run from the evil that hides inside.
Author: Michael Rogers
Genre: Horror
When a man digs a foundation for a barn, he uncovers a very valuable material running under the ground and looks to his son to decide the future of the family farm.
Author: Michael Rogers
Genre: Drama,Sci-Fi
In the year 2075, the Starwatch court jurisdiction is created in the Asteroid Belt to ensure the survival of humanities new societies. To get a taste of the show, please go to www.starwatchthemovie.com and look at the trailer of the film on which the series is based.
Author: Kevin Birnbaum
Genre: Drama,Action-Adventure,Sci-Fi
A high-tech entrepreneur and his family huddle in a "billionaire bunker" a mile underground as a reported nuclear war rages above, only to discover that they have walled themselves in with a false ally intent on vengeance and murder
Author: Linda Boroff
Genre: Drama,Thriller,Action-Adventure
More WinningScripts ...