Updated: 09/18/2019
The Table Read My Screenplay Competition has announced Rachel Kempf's Dirty Words as the winner of a table read at this year's Austin Film Festival.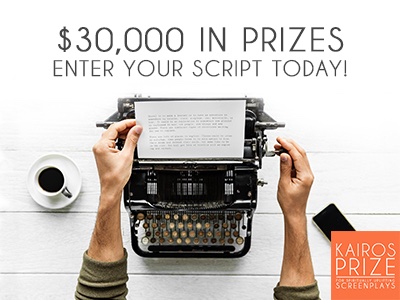 WinningScripts PRO
Spotlight
Script:
A burned out middle-age accountant and a young daredevil woman form an improbable alliance on a dangerous rescue-mission to Mexico. First Place, Screenplay Festival, 2017.
Screenwriting Contest News
The Austin Film Festival (AFF) has announced their 2019 Script Competition Semifinalists (top 2%) and Second Rounders (top 20%), chosen from a record field of 11,907 scripts entered in the Screenplay, Digital Series, Playwriting, and Fiction Podcast Competitions. Finalists will be revealed by mid-October and the winners will be announced during this year's Conference at the Awards Luncheon on Saturday, October 26 at the new LINE Austin Hotel, overlooking Town Lake downtown. [Updated: 09/16/2019]
The Judges of the 2019 PAGE International Screenwriting Awards have announced the top 10 Finalists in each of the contest's ten genre categories. [Updated: 09/15/2019]
Kerry Kolbe has been named the Winner of the 2019 CineStory Fellowship Competition on the basis of her script Swallow, about a 17-year-old girl who is desperate to study particle physics at Cambridge, like her hero Stephen Hawking. Unfortunately, she's trapped playing parent to her dysfunctional family of twitchers (a/k/a bird watchers), who drag her on a wild chase of her late mother's "spirit animal," a rare albino swallow. [Updated: 09/09/2019]
Tuck Tucker's Boy Most Wanted has been named the winner of the 2019 Scriptapalooza Screenplay Competition. Nick Robert's Jumping Into Hemingway's Pool was the 2nd place winner, and the 3rd place winner was The Girl Who Collected Sound by Steven Benedict. [Updated: 09/09/2019]
The 2019 Nicholl Fellowships finalists are (listed alphabetically by author): Aaron Chung, "Princess Vietnam", Gary Patent, "Cosmonaut", Jack Zafran, "Justice, Justice", Joel Sinensky, "The Lie Factory", Karen McDermott, "Lullabies of La Jaula", Lynn Esta Goldman, "On the Wing", Matthew Fantaci, "Scandalous!", Paul Ashton, "Slater Berricks is a Dead Man", Renee Pillai, "Boy with Kite", Sean Malcolm, "Mother", Toy Styles, "Concrete Beach", and Walker McKnight, "Street Rat Allie Punches Her Ticket." [Updated: 09/08/2019]
6,000 submissions, 400 official selections, and 10 days later, the HollyShorts Film Festival has announced their top 36 prizes for their landmark 15th year. On Saturday at Harmony Gold in Hollywood, three of the festival's films officially became qualified to be in the running for an Academy AwardⓇ in 2020. This year marked the biggest prize packages for filmmakers as well, including prizes from Impossible Dream, Studio 21, Film Augusta, Seattle Film Summit, Buffalo 8, Stampede Ventures, Kodak, Panavision, PaperChase Films, ISA and more. [Updated: 08/30/2019]
Taylor Hopkins' Stagecoach Mary has been named the winner of the Creative World Awards Screenwriting Competition. Based on a true story, the script is about a hard-drinking, cigar smoking black woman in Montana in 1885, who uses her six shooter and tough as nails attitude to defend a convent of nuns from the perils of the Wild West. [Updated: 08/27/2019]
Michael Fearths' Made You Better When I Died has been named the winner of the 2019 Scriptapalooza Short Screenplay Competition. [Updated: 08/23/2019]
Finalists have been annonced for the 2019 CineStory Feature Fellowship. [Updated: 08/19/2019]
Matt Raner has been named the overall winner of the TrackingB TV Pilot Competition. The script, titled Hechicera is about a former FBI agent who lives a lonely life in a small Arizona town, until three cartel killers come hunting for an innocent immigrant girl hiding an unbelievable secret. [Updated: 08/19/2019]
Partner
Subscribe to
WinningScripts PRO
to put your loglines and script excerpts in front of hundreds of industry professionals. From MovieBytes.com, the Internet's #1 site for screenwriting contest info.
WinningScripts: ScriptLinks
When a wealthy businessman and a waitress (each with an eight year old daughter) get married, they think they have the perfect family-unaware that their two darling angels are actually little menaces.
Author: Mandy Gales
Genre: Comedy,Family
After her parents are brutally murdered, the last dragon whisperer — a 16 yr old grieving teenager named Luana — goes on an epic quest to avenge their deaths and rescue her village from blood-thirsty banshees. "Luana" is the prequel to the multi-award-winning "Legacy."
Author: Danielle R Erlich
Genre: Action-Adventure,Fantasy,Supernatural
When a bullied teenager seeks refuge by an Irish castle, he travels to a magical world he never knew existed where his long-lost father turns out to be king. But the king has been kidnapped by an unknown assailant, and now the responsibility to rescue him falls to his clueless son.
Author: Danielle R Erlich
Genre: Action-Adventure,Fantasy,Supernatural
SUNNY, a teen runaway obsessed with a cult TV show, hitchhikes to Los Angeles for a fan convention and wins a trivia contest. Her prize is dinner with the star from the show, and an invitation to stay as a houseguest. Isolated in a mansion of the Hollywood Hills, Sunny slowly becomes tortured by evil forces with sinister motives as she uncovers horrifying secrets behind the scenes.
Author: Gina Ronhovde
Genre: Thriller,Horror
Inspired by true events. In 1922 Oregon, a lawyer, thinking he's protecting his family, secretly joins the KKK and their push for the Oregon Compulsory Education Act, only to throw his Down Syndrome son into mortal danger.
Author: Carol Paur
Genre: Drama,Thriller,Historical
Prodigal son, Emilio Garcia returns home for the funeral of his younger brother, then unwittingly leaves again with an 'old girlfriend with baggage' on a forbidden trip/ action adventure vacation to Havana, Cuba.
Author: David Schroeder
Genre: Drama,Thriller,Romance
When a troubled girl's visions of her classmates' murders start coming true, she suspects her father is the killer.
Author: Danny Howell
Genre: Horror,Supernatural
It's not your mother's buddy movie. It's a combo meal. It's a little bit of Lethal Weapon, Die Hard, The Social Network with a side of Taken. Experienced FBI Agent hires and befriends an internet entrepreneur to help rescue a six year old girl taken hostage in a fall out shelter by a ruthless psychopath. Winner LA film fest Best scene 2017.
Author: Janet Caulfield
Genre: Drama,Thriller,Action-Adventure
A Veteran FBI Agent outsmarts a cult of young cyber crooks. The crafty FBI Agent with the help of a New York Company that specializes in security services and equipment, tracks down, hunts and arrests a syndicate of interns working in these cities. It's MAD MEN meets CRIMINAL MINDS.
Author: Janet Caulfield
Genre: Drama,Comedy,Action-Adventure
*** Russian astronaut, thrown out of the space program, hijacks a space taxi going to the International Space Station. An intergalactic, time warp, adventure to the future.
Author: janet caulfield
Genre: Thriller,Action-Adventure,Sci-Fi
More WinningScripts ...