Updated: 07/01/2016
LIFT, by Claire Fowler, about a Muslim Uber driver who make an unexpected connection when she picks up her polar opposite, has been named the Shore Scripts Short Film Fund Winner.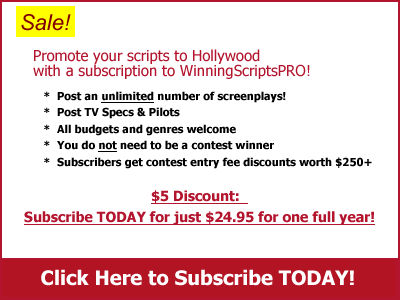 Screenwriting Contest News
Shore Scripts has named 13 finalists for their first-ever Short Film Fund. [Updated: 06/27/2016]
Diverse Voices, presented by WeScreenplay and focused on promoting and encouraging diverse voices and stories, has named their Screenplay Contest Finalists for 2016. [Updated: 06/15/2016]
[Updated: 06/14/2016]
[Updated: 06/14/2016]
[Updated: 06/13/2016]
Jared Iacino, who will be accepting online pitches on June 25th through the MovieBytes partnership with Roadmap Writers, is the Vice President of Film and Television Development at Panay Films, a film and television production company whose credits include Wedding Crashers (2005), starring Vince Vaughn and Owen Wilson, Van Wilder (2002) starring Ryan Reynolds, and Serendipity (2001), starring John Cusack and Kate Beckinsale. [Updated: 06/07/2016]
Odd Lot Entertainment's Aldo Chang, available to hear pitches through MovieBytes partnership with Roadmap Writers, will be hosting a free webinar this Sunday, June 12th, entitled Tips on Writing a Compelling Thriller. [Updated: 06/06/2016]
Quarterfinalists have been announced for the 2016 CineStory Screenwriting Awards. [Updated: 05/27/2016]
[Updated: 05/20/2016]
[Updated: 05/18/2016]
Partner
Subscribe to
WinningScripts PRO
to put your loglines and script excerpts in front of hundreds of industry professionals. From MovieBytes.com, the Internet's #1 site for screenwriting contest info.
WinningScripts: ScriptLinks
Confronted with the dilemma of doing nothing or fight, a dedicated nurse takes unprecedented steps.
Author: Patricia Poulos
Genre: Drama,Family
Expecting disaster, a terrified young woman's decision transcends her into the Universe.
Author: Patricia Poulos
Genre: Drama,Fantasy,Family
The Devil relentlessly pursues a little Earthling, rebuttal finding his henchmen draining her brain-fluid for answers.
Author: Patricia Poulos
Genre: Drama,Thriller,Supernatural
A young woman sacrifices all,in her fight to save a nation oblivious of its impending destruction.
Author: Patricia Poulos
Genre: Drama,Thriller,Fantasy
A quiet achiever explodes as an atom in her expose of criminals destroying innocence.
Author: Patricia Poulos
Genre: Drama,Thriller
They just signed the "1" before "1" presidential marriage contract, and "Carrie" is crying! The El Cerritos Drug & Porn Industries are dead! Clay will destroy the entire El Cerritos Child Porn Ring funded by gov./PBS money, that stretched from NY, to San Fran, and through Los Angeles. (Original Republican screenplay "The Parsnips Gang"/prequel "Sunnygirl"/sequel "$ For Clay: The Burning Bush.
Author: David Seader
Genre: Drama,Thriller,Action-Adventure
An Army brat without a home town grows up, leaves his Army M.P. job to become a P.I., adopting a town in Colorado gold country, his first case revealing the town is full of secrets, including one that destroyed his family years before, and a new secret that he must forever keep from his fiancée.
Author: Russ Meyer
Genre: Drama,Thriller
When two roommates find their third roommate dead in his room they panic, realizing they could be suspects, then spend hours getting drunk letting their imagination go wild, until the authorities show up.
Author: judi Blaze
Genre: Comedy
Two neglected toddlers look on as their new baby brother is taken from their motel room, as the mother watches. Baby's Gone is a short taken from my memoir, Riding in the Backseat with My Brother; currently a book but soon to be a feature screenplay. Just awarded semi-finalist for the New Millennium competition.
Author: judi Blaze
Genre: Drama,Family
After a brawl with her husband leaves a young woman with one arm, a strong-headed island woman reclaims her life and finds new love, but all of that gets disrupted when her husband gets released from prison, stalks her, and comes looking for revenge. This screenplay has been completely rewritten per feedback from a consultant.
Author: judi Blaze
Genre: Drama,Romantic Comedy,Thriller
More WinningScripts ...