Updated: 03/26/2020
The International Screenwriters' Association has announced their 2020 Fast Track XI semifinalists.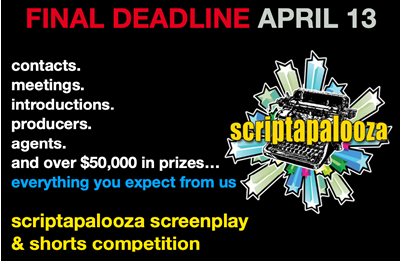 WinningScripts PRO
Spotlight
Script:
Fresh Voices Screenplay Competitition Grand Prize Winner: A small country town in middle America is plagued by a mysterious humming sound that only a percentage of residents can hear...
Screenwriting Contest News
Roadmap Writers has named Joey Day Hargrove as the winner of their 2019/2020 Top Tier Competition for her script, Sunny & Hyde. [Updated: 04/01/2020]
Alex Payne's Deepfake has been name the overall winner of the 2019 Launch Pad Feature Screenwriting Competition. [Updated: 03/26/2020]
The BlueCat Screenwriting Competition has announced their 2020 Feature, TV Pilot, and Short Script quarterfinalists. Semifinalists will be announced on April 14th, 2020. [Updated: 03/17/2020]
Tony Cammarata and Dillon Magrann-Wells have been announced as the March Selections for LiveRead/LA, which this month - due to the Covid-19 virus - will feature a March 23rd "closed" reading with Industry Insider Sean Woods. [Updated: 03/13/2020]
Allen Roughton has been named the 1st Place Winner of The Killer Shorts Horror Short Screenplay Competition for his short script AN APPLE A DAY. CJ Whitehead has been named the 2nd Place Winner for THE NO-NO MAN, and Chris Hicks has been named the 3rd Place Winner for THE BUTTER STREET HITCHHIKER. [Updated: 03/13/2020]
Scriptapalooza has anounced a list of producers/managers who will review the contest's 12 winners and 12 finalists. [Updated: 03/10/2020]
Austin Film Festival (AFF) has announced that its original interview series, Austin Film Festival's On Story®, will premiere its 10th season nationwide in April 2020 on public television stations across the country. Available in more than 85% of U.S. markets, including New York, Los Angeles, Dallas, San Francisco, Washington, D.C., and Houston, On Story gives viewers an inside look at the creative process behind some of our most popular and beloved movies and television shows. Season 10 features recorded conversations between acclaimed and award-winning screenwriters, TV creators, and filmmakers from the 26th Annual Austin Film Festival & Conference. [Updated: 03/03/2020]
The Killer Shorts Horror Short Screenplay Competition has announced their 2020 Semi-Finalists, representing approximately the top 5% of all submissions. [Updated: 03/01/2020]
No Overnight Parking by Megan Swertlow has been named the Grand Prize Winner of the 2020 Shoot Your Sizzle Screenwriting Competition. [Updated: 02/25/2020]
Scriptapalooza TV has posted video interviews with a number of their 2020 TV contest winners and finalists. [Updated: 02/22/2020]
The Your Script Produced Screenwriting Contest has announced their second season judges in a two-page spread in the Hollywood Reporter. [Updated: 02/20/2020]
Partner
The Finish Line Competition offers 6+ pages of script development notes to rewrite & resubmit new drafts AT NO EXTRA COST. 42 Industry mentors will read, meet & guide our winners (and semi-finalists!) ENTER TODAY!
www.finishlinescriptcomp.com
Partner
Subscribe to
WinningScripts PRO
to put your loglines and script excerpts in front of hundreds of industry professionals. From MovieBytes.com, the Internet's #1 site for screenwriting contest info.
WinningScripts: ScriptLinks
Orphaned after his father is murdered in the Rock Springs Massacre of 1885, Bo helps his adopted family of sheep ranchers fight for their land in bloody range wars while struggling with his identity and reigniting a dangerous love affair. (Formerly titled BLOOD LAW).
Author: Cassie Hayasaka and Keith Hayasaka
Genre: Drama,Historical
A successful businesswoman is oblivious of the tycoon's stealth of her assets, and he was unprepared for the relentless tiger within her with razor-sharp toothed pen sending him into oblivion.
Author: Patricia Poulos
Genre: Drama,Thriller,Biography
A decorated Air Force combat vet turned bad boy bike club officer relives his military past in his present as he quickly finds himself on a rescue mission with the aid of his fellow bikers...and enemies.
Author: Clinton Parks
Genre: Action-Adventure
A night out with friends turns out to be anything but normal as a local legend is put to the test. Legends have a way of adding to their own lore and these three friends will find out that if you don't know your local history, you're doomed to repeat it.
Author: Dallas Gibson
Genre: Thriller,Horror,Supernatural
When a former Army Sergeant discovers that the crime family responsible for his best friend's death is holding the city of New York hostage, he makes it his personal mission to take them down no matter the cost.
Author: Dallas Gibson
Genre: Drama,Thriller,Action-Adventure
A failed NASCAR driver looking for redemption uncovers a sinister plot involving his ex-girlfriend. With the help of a prototype car, he must defy the odds to get her back.
Author: Dallas Gibson
Genre: Drama,Action-Adventure,Sports
A sniper and his spotter must complete a mission in Vietnam, but they do not know that doing so will light a powder keg with dire consequences.
Author: Dallas Gibson
Genre: Thriller,Action-Adventure,Historical
When hired to find heirs to a large will, a lone wolf San Francisco private investigator finds the heirs are being killed by the same assassin that murdered his girlfriend years before, and must decide whether to save the remaining heir, or abandon him to hunt down the assassin.
Author: Russ Meyer
Genre: Drama,Action-Adventure
This one is pure Fun.!It's a genre buster, Fosse/Verdon meets James Bond, meets All That Jazz and Cabaret! Asian American Black Belt goes undercover for the CIA, to help track down terrorists. Oh, and did I mention she's the Lead in a Broadway Musical? This is very musical, but there's a lot of action! This one is getting a lot of attention right now! The main Characters reside in New York, they are part of an international terrorist group.
Author: Janet Caulfield
Genre: Drama,Romantic Comedy,Thriller
It's not your mother's buddy movie. It's a combo meal. It's a little bit of Lethal Weapon, Die Hard, The Social Network with a side of Taken. Experienced FBI Agent hires and befriends an internet entrepreneur to help rescue a six year old girl taken hostage in a fall out shelter by a ruthless psychopath. Winner LA film fest Best scene 2017.
Author: Janet Caulfield
Genre: Drama,Thriller,Action-Adventure
More WinningScripts ...