Updated: 11/14/2017
"Windows Wicked," an eerie story of an eight-year-old boy and an unseen creature clawing at his bedroom window, won The Poe Contest's 24-hour Halloween screenplay contest for Chicago writer Rob Herzog.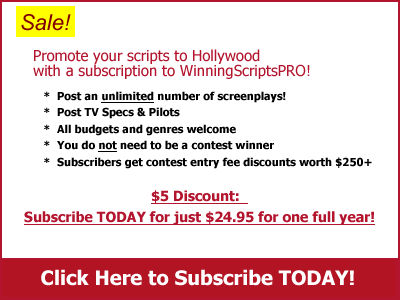 WinningScripts PRO
Spotlight
Script:
A CIA Operative with the psychic ability to see everybody's past faces terrorists that kidnap his loved ones and force him to use his powers against his country. 2017 StoryPros Awards, 1st Place Action/Adventure/Thriller.
Screenwriting Contest News
Shore Scripts has named their 2017 Feature, TV Pilot and Short Script finalists. Winners will be announced November 30th. [Updated: 11/10/2017]
Scriptapalooza is one of the longest-running contests on MovieBytes. We caught up with contest founder Mark Andrushko on the occasion of their 20th Anniversary. [Updated: 11/10/2017]
The Emerging Screenwriters Competition has announce their Top 100 Screenplays for 2017. [Updated: 11/07/2017]
Winners will be announced November 10th. [Updated: 11/07/2017]
WILDSound has announced their Screenplay Contest Winners for October, 2017. [Updated: 11/06/2017]
Barry Brennessel from Silver Spring, MD has been named the Best Screenplay Grand Prize Winner for this year's Flickers' Rhode Island International Film Festival (RIIFF) Screenplay Competition. Barry's winning screenplay is entitled "Anh Sang." [Updated: 10/31/2017]
The Austin Film Festival has announced their competition winners from a record field of 9,487 scripts entered in the Screenplay, Digital Series, Playwriting, and Fiction Podcast Competitions. [Updated: 10/29/2017]
Short Scripts has named their Feature, TV Pilot, and Short Script quarterfinalists. [Updated: 10/25/2017]
Scriptapalooza has posted video interviews with several of their Short Script Contest quarterfinalists and semifinalists. [Updated: 10/25/2017]
Roadmap Writers has announced K.T. Parker's script Distant Voices as the winner from among over 2,000 submissions to their Wise Words Writing Contest for writers over 50. [Updated: 10/20/2017]
Partner
Subscribe to
WinningScripts PRO
to put your loglines and script excerpts in front of hundreds of industry professionals. From MovieBytes.com, the Internet's #1 site for screenwriting contest info.
WinningScripts: ScriptLinks
It's not your mother's buddy movie. It's a combo meal! It's a little bit of Lethal Weapon, Die Hard, The Social Network with a side of Taken. Experienced FBI Agent hires and befriends a young internet entrepreneur to help rescue a six year old girl taken hostage in a fall out shelter by a ruthless psychopath.
Author: Janet Caulfield
Genre: Drama,Thriller,Action-Adventure
In this prequel to the multi award winning "Legacy,"16 year old Luana's parents are brutally murdered, and she becomes the last of the dragon whisperers. Luana must find the courage to avenge her parents death, save herself, and rescue the rest of her village from the blood thirsty banshees who are hunting her.
Author: Danielle Erlich
Genre: Action-Adventure,Sci-Fi,Fantasy
Currently in the TOP TEN winning scripts in both the sci-fi and fantasy genres. A teen, Lachlan, falls through a portal outside of Dublin Ireland and finds himself in a magical world. He comes to find out that the father who abandoned him as a child is actually their king, but has been kidnapped. It is up to Lachlan to rescue his father and marshal good against evil in this battle for all humanity.
Author: Danielle Erlich
Genre: Action-Adventure,Sci-Fi,Fantasy
A WW1 German-Jewish vet with PTSD flees Germany to join family in the Netherlands then struggles with his demons as a member of the Dutch Resistance. [5 Contest Finalist Awards in 2017]
Author: Charles DeRykus
Genre: Drama,Thriller,Historical
Logline: Green Beret Hunter-Killer Team Mission- Intercept the renegade SEAL team trying to rescue Jesus from the Cross and keep the 21st century from vanishing.
Author: James Sladack
Genre: Action-Adventure,Sci-Fi,Historical
After his brother attempts suicide a few weeks before Christmas, an unrepentant asshole with a heart of gold moves back in with his comically dysfunctional family to help his brother, only to discover that his brother is the sanest of them all [OPTIONED].
Author: Jonathan LaPoma
Genre: Drama,Comedy,GLBT
A struggling Hollywood screenwriter recruits his former best friends to help him write a script about a series of pranks they pulled in high school, and they discover why their friendship fell apart (ADAPTATION meets IDIOCRACY). [6 awards/honors including, 3rd place in the 2017 Indie Gathering Film Festival]
Author: Jonathan LaPoma
Genre: Drama,Comedy
An awkward elf becomes an unlikely hero when he is accidentally left behind on Christmas Eve and encounters the vile Santa Glum stealing Santa's gifts who has now kidnapped Mrs. Claus and with her the power to ruin Christmas.
Author: William Sikorski Jr. & William Sikorski III
Genre: Fantasy,Family,Animation
An awkward teen becomes an unlikely hero when she befriends a cat from a magical dimension that is being destroyed by an all-consuming blackness that is about to invade her world too.
Author: William Sikorski Jr. & William Sikorski III
Genre: Action-Adventure,Family,Animation
Modern redo of "It's a Wonderful Life." -Bollywood style with main character , Janie, a Goth telemarketer. Would make a great musical!
Author: Justine Cowan
Genre: Romantic Comedy,Family,Urban
More WinningScripts ...