Updated: 04/19/2019
Emerging Screenwriters has announced the Top 100 scripts of their 2019 Shoot Your Sizzle Screenwriting Competition.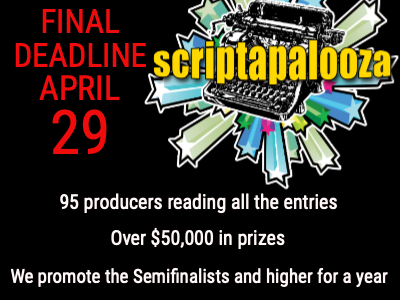 WinningScripts PRO
Spotlight
Script:
A burned out middle-age accountant and a young daredevil woman form an improbable alliance on a dangerous rescue-mission to Mexico. First Place, Screenplay Festival, 2017.
Screenwriting Contest News
Women reigned victorious at the 2018-19 Fresh Voices Screenplay Competition this week with an all-star group of talented female writers dominating both the Drama and Family Film Categories. Leading them all, it was Skye Emerson's historical drama, CHALLENGER, that wowed the jury and took home the Grand Prize Award. [Updated: 04/12/2019]
ScreenCraft has announced the quarterfinalists from among roughly 2,500 submissions to their 2019 ScreenCraft Fellowship Competition. [Updated: 04/11/2019]
BlueCat has announced their 2019 Feature, TV, and Short Script semifinalists. [Updated: 04/11/2019]
Fresh Voices Screenplay Competition has named their 2018-19 Contest Finalists and Spotlight Award Nominees. [Updated: 04/01/2019]
A newly launched division of the Scriptapalooza Screenwriting Competition is now producing films utilizing the organization's relationships to attach funds and talent. [Updated: 03/27/2019]
The BlueCat Screenwriting Competition has announced quarterfinalists for their 2019 Feature, Short, and TV pilot contests. [Updated: 03/26/2019]
Austin Film Festival and Rooster Teeth are partnering to launch the Inaugural "Rooster Teeth Fellowship Award" to be presented at the 26th Annual Austin Film Festival. This new award will be available in conjunction with AFF's existing Script Competitions and is open to all scripted submissions that embody the Rooster Teeth genre. [Updated: 03/19/2019]
Scriptation, the company behind the popular script app used on film and television productions worldwide, opened the call for submissions for its new screenwriting competition, the Scriptation Showcase. Fifteen winners' scripts will be featured for a full year in Scriptation, giving them unprecedented exposure to Hollywood professionals. [Updated: 03/12/2019]
Semifinalists have been announced for the 2018-19 Fresh Voices Screenwriting Competition. [Updated: 03/07/2019]
THE BOOK OF JOEY by Steven Block has been named the TVWriter.com People's Pilot Comedy category winner, while THE FUCKING NEW GUYS by Meredith Bagby took top honors in the Drama/Action category. [Updated: 03/06/2019]
CineStory Co-Executive Director Carlo Martinelli catches up with the 2018 CineStory Fellowship second place winner, Avishai Weinberger. [Updated: 03/05/2019]
Partner
allows you to rewrite and resubmit for free!
We offer 6+ pages of script development notes to improve your drafts and have 35+ top Film & TV Mentors who will read, meet & guide our winners! Huge industry access to all entrants. enter today!
www.finishlinescriptcomp.com
Partner
Subscribe to
WinningScripts PRO
to put your loglines and script excerpts in front of hundreds of industry professionals. From MovieBytes.com, the Internet's #1 site for screenwriting contest info.
WinningScripts: ScriptLinks
Thriller based on the true stalking murder of Berkeley student Tanya Tarasoff in 1969 by an obsessed graduate student, and the legal case that changed U.S. doctor-patient confidentiality laws.
Author: Linda Boroff
Genre: Drama,Thriller,Historical
College girl accompanies her new boyfriend to his decaying San Joaquin Valley home town for his mother's birthday and is pulled into family conflicts and lost dreams dating back to the Civil War.
Author: Linda Boroff
Genre: Drama
Thirteen-year-old Haylee stumbles on her father's affair with her mother's friend, who has come to stay after her home was burglarized.
Author: Linda Boroff
Genre: Comedy,Family
A high-tech entrepreneur and his family huddle in a "billionaire bunker" a mile underground as a reported nuclear war rages above, only to discover that they have walled themselves in with a false ally intent on vengeance and murder
Author: Linda Boroff
Genre: Drama,Thriller,Action-Adventure
A married assistant D.A. falls for a vagabond girl living in the seedy Beach Flats area of Santa Cruz, California. His double life may lead him to a killer, but at the cost of his marriage and career.
Author: Linda Boroff
Genre: Drama,Thriller,Action-Adventure
A young couple are stranded on a remote Alaskan island when their seaplane goes down in a winter storm. Soon, they realize they are being stalked and not just by wolves.
Author: Linda Boroff
Genre: Drama,Action-Adventure,Horror
Twenty million years from now, with man long extinct, a species of evolved from birds now fills our niche. The Rhia tribe is defeated by their enemies and banished to a wilderness of evolved rat-predators, intelligent insects, and other life forms. To survive, the Rhia must rely on outcasts who have adapted to this deadly environment.
Author: Linda Boroff
Genre: Thriller,Action-Adventure,Animation
Business student with Wall Street fantasies is hoaxed into taking a summer job at a plumbing company and gets a dose of reality.
Author: Linda Boroff
Genre: Comedy,Romantic Comedy
A lonely woman, attacked by a feral cat she tried to befriend, finds her way back to a lost love.
Author: Linda Boroff
Genre: Comedy,Romantic Comedy
Teenage Bonnie was a mantrap -— envied, respected, and hated like poison.
Author: Linda Boroff
Genre: Comedy,Romantic Comedy,Romance
More WinningScripts ...