Updated: 10/15/2019
The winners of the 2019 PAGE International Screenwriting Awards contest have now been announced, and this year's $25,000 Grand Prize was awarded to Michael Kogge for his powerful historical biopic ODYSSEY.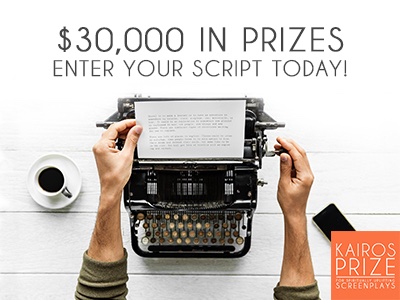 WinningScripts PRO
Spotlight
Script:
Fresh Voices Screenplay Competitition Grand Prize Winner: A small country town in middle America is plagued by a mysterious humming sound that only a percentage of residents can hear...
Screenwriting Contest News
The Scriptapalooza Television Writing Competition has posted video interviews with its top winners. [Updated: 10/17/2019]
The Write/LA Screenwriting Competition has named their 15 semifinalists for 2019. Finalists will be announced on November 1st. [Updated: 10/15/2019]
Scripapalooza has posted video interviews with their 2019 Contest Winners Tuck Tucker, Nick Roberts, and Steven Benedict. [Updated: 10/07/2019]
Semifinalists have been announced for the 2019 ScreamFest Horror Screenplay Competition. [Updated: 10/04/2019]
Fifty quarterfinalists have been announced for the 2019 Write/LA Screenwriting Competition. Fifteen semifinalists will be announced on October 15. [Updated: 10/01/2019]
Annie O'Connell & Reem Edan have been named the winner of the 2019 Filmmatic Comedy Screenplay Awards for their Pilot "The Degenerates". [Updated: 09/27/2019]
The Table Read My Screenplay Competition has announced Rachel Kempf's Dirty Words as the winner of a table read at this year's Austin Film Festival. [Updated: 09/18/2019]
The Austin Film Festival (AFF) has announced their 2019 Script Competition Semifinalists (top 2%) and Second Rounders (top 20%), chosen from a record field of 11,907 scripts entered in the Screenplay, Digital Series, Playwriting, and Fiction Podcast Competitions. Finalists will be revealed by mid-October and the winners will be announced during this year's Conference at the Awards Luncheon on Saturday, October 26 at the new LINE Austin Hotel, overlooking Town Lake downtown. [Updated: 09/16/2019]
The Judges of the 2019 PAGE International Screenwriting Awards have announced the top 10 Finalists in each of the contest's ten genre categories. [Updated: 09/15/2019]
Kerry Kolbe has been named the Winner of the 2019 CineStory Fellowship Competition on the basis of her script Swallow, about a 17-year-old girl who is desperate to study particle physics at Cambridge, like her hero Stephen Hawking. Unfortunately, she's trapped playing parent to her dysfunctional family of twitchers (a/k/a bird watchers), who drag her on a wild chase of her late mother's "spirit animal," a rare albino swallow. [Updated: 09/09/2019]
Partner
Subscribe to
WinningScripts PRO
to put your loglines and script excerpts in front of hundreds of industry professionals. From MovieBytes.com, the Internet's #1 site for screenwriting contest info.
WinningScripts: ScriptLinks
It's not your mother's buddy movie. It's a combo meal. It's a little bit of Lethal Weapon, Die Hard, The Social Network with a side of Taken. Experienced FBI Agent hires and befriends an internet entrepreneur to help rescue a six year old girl taken hostage in a fall out shelter by a ruthless psychopath. Winner LA film fest Best scene 2017.
Author: Janet Caulfield
Genre: Drama,Thriller,Action-Adventure
A Veteran FBI Agent outsmarts a cult of young cyber crooks. The crafty FBI Agent with the help of a New York Company that specializes in security services and equipment, tracks down, hunts and arrests a syndicate of interns working in these cities. It's MAD MEN meets CRIMINAL MINDS.
Author: Janet Caulfield
Genre: Drama,Comedy,Action-Adventure
*** Russian astronaut, thrown out of the space program, hijacks a space taxi going to the International Space Station. An intergalactic, time warp, adventure to the future.
Author: janet caulfield
Genre: Thriller,Action-Adventure,Sci-Fi
Kids and their dogs, find the rainbow bridge in a snowstorm. They teleport, fly, zoom through tunnels, and levitate, around this heaven-like universe.They have a lot of fun, but get a few surprises along the way, from messages, and musical communication with angels and whales....to a run in with a demon. They meet up with their recently departed Grandfather, and his dog, who helps them return home.
Author: janet caulfield
Genre: Fantasy,Supernatural,Animation
In the volatile 70s, a college student in need of money takes a dangerous job logging in the West Coast rainforest where betraying who he is may be his only chance to survive.
Author: Alfred Al) Cool
Genre: Drama,Historical
When a wealthy businessman and a waitress (each with an eight year old daughter) get married, they think they have the perfect family-unaware that their two darling angels are actually little menaces.
Author: Mandy Gales
Genre: Comedy,Family
A klutzy James Bond wannabe and an introverted bookworm join forces to save a Cruise Ship and a billion dollar cold cure from a watery demise.
Author: Emil Faithe
Genre: Comedy,Romantic Comedy,Action-Adventure
When a professor's wife, who suffers a panic disorder, disappears mysteriously during Mardi Gras, the professor obsesses on one of his students who's writing a play with a character eerily similar to his wife and may be in on the disappearance. Winner, Writers on the Storm; Top 16 scripts, Slamdance. Previously optioned to an LA production company.
Author: Robert Rhyne
Genre: Thriller
(Puzzle Box Thriller) Two troubled teen boys, the most popular kid in school and the least popular, struggle to understand the shocking secret that links them both together.
Author: Brent Hartinger
Genre: Thriller,Action-Adventure
A school-boy kicks a pebble along a magical beach when he's mesmerized by an apparition which materializes into the girl of his dreams.
Author: Patricia Poulos
Genre: Family,Romance
More WinningScripts ...