Updated: 12/10/2019
Benjamin Feuer, Brian Golden, and Kate Shenton have been named the 1st Place Winners of the Feature, 1-hour and 1/2-hour TV categories of the 2019 Shore Scripts Screenwriting Competition.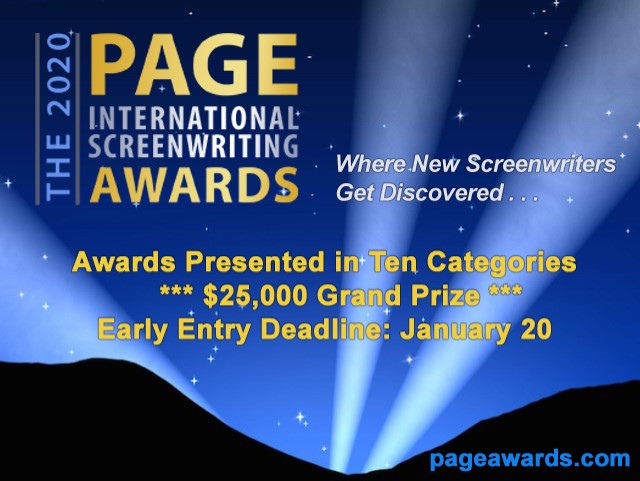 WinningScripts PRO
Spotlight
Script:
An FBI Agent wakes up with no memories in a post-apocalyptic New York City after an unknown catastrophe has annihilated all life on earth. Second Place, Screenplay Festival, 2018.
Screenwriting Contest News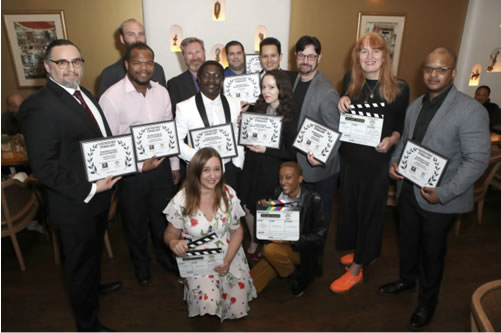 Your script Produced! International Film/TV/Short Screenplay Competition inaugural 2019 Season 1 Awards Dinner in Beverly Hills, CA November 8, 2019. [Updated: 12/05/2019]
Shore Scripts has announced their Winning Features and TV Pilots. Order of finish among the winning scripts will be announced on December 10th. [Updated: 11/25/2019]
Ted Campbell, Feature Grand Prize winner and Doval Bacall the financier/producer, have begun developing/preparing the Crime Thriller script "Blue Motel" for pre-production in the first quarter of 2020. Doval Bacall will produce the feature for $250,000 under his Doval Bacall Films LLC Banner. [Updated: 11/24/2019]
Shore Scripts has announced their 2019 Contest Finalists. Winners will be announced on November 25th. [Updated: 11/21/2019]
[Updated: 11/19/2019]
Sheila Shah and Doval Bacall hosted an intimate reception with winners and friends at the Bombay Palace in Beverly Hills.

[Updated: 11/18/2019]
Write/LA has announced their Grand Prize Winner for 2019. Nick Alverson, Paula Dixon and Clint Williams will come to LA for two days of masterclasses followed by an invite-only Grand Prize Live Read event at Raleigh Studios on December 7, 2019. [Updated: 11/15/2019]
Taylor Hopkins was the Grand Prize Winner of the 2019 Creative World Awards for his screenplay, Stagecoach Mary, a true story about a hard-drinking, cigar smoking black woman in Montana in 1885, who uses her six shooter and tough as nails attitude to defend a convent of nuns from the perils of the Wild West. [Updated: 11/14/2019]
Short Scripts has announced their 2019 Feature and TV Pilot (1/2-hour and 1-hour) semifinalists. [Updated: 11/10/2019]
2019 Scriptapalooza Fellowship Recipient Paula Dixon talks about the Robert McKee seminar she attended. [Updated: 11/08/2019]
Partner
Subscribe to
WinningScripts PRO
to put your loglines and script excerpts in front of hundreds of industry professionals. From MovieBytes.com, the Internet's #1 site for screenwriting contest info.
WinningScripts: ScriptLinks
A tourist-dependent town in Florida boasts of a historic inhabitant as being America's first serial killer, only to suffer his reawakening.
Author: Con Kringas
Genre: Horror
A desperate father enlists the aide of an ornery cuss to help him save his daughter's dying horse.
Author: alfred cool
Genre: Comedy
Parallel worlds collide when an unwitting conspiracy podcaster and the determined, crime-fighting woman he falls for are framed for a double murder on Wall Street. Time is running out as they discover the villains are linked to a layered mystery in the murky, dangerous underworld of corporate and government crime.
Author: alfred cool
Genre: Comedy,Thriller,Action-Adventure
When a wealthy businessman and a waitress (each with an eight year old daughter) get married, they think they have the perfect family-unaware that their two darling angels are actually little menaces.
Author: Mandy Gales
Genre: Comedy,Family
This one is pure Fun.!It's a genre buster, Fosse/Verdon meets James Bond, meets All That Jazz and Cabaret! Asian American Black Belt goes undercover for the CIA, to help track down terrorists. Oh, and did I mention she's the Lead in a Broadway Musical? This is very musical, but there's a lot of action! This one is getting a lot of attention right now! The main Characters reside in New York, they are part of an international terrorist group.
Author: Janet Caulfield
Genre: Drama,Romantic Comedy,Thriller
It's not your mother's buddy movie. It's a combo meal. It's a little bit of Lethal Weapon, Die Hard, The Social Network with a side of Taken. Experienced FBI Agent hires and befriends an internet entrepreneur to help rescue a six year old girl taken hostage in a fall out shelter by a ruthless psychopath. Winner LA film fest Best scene 2017.
Author: Janet Caulfield
Genre: Drama,Thriller,Action-Adventure
*** Russian astronaut, thrown out of the space program, hijacks a space taxi going to the International Space Station. An intergalactic, time warp, adventure to the future.
Author: janet caulfield
Genre: Thriller,Action-Adventure,Sci-Fi
A Veteran FBI Agent outsmarts a cult of young cyber crooks. The crafty FBI Agent with the help of a New York Company that specializes in security services and equipment, tracks down, hunts and arrests a syndicate of interns working in these cities. It's MAD MEN meets CRIMINAL MINDS.
Author: Janet Caulfield
Genre: Drama,Comedy,Action-Adventure
Kids and their dogs, find the rainbow bridge in a snowstorm. They teleport, fly, zoom through tunnels, and levitate, around this heaven-like universe.They have a lot of fun, but get a few surprises along the way, from messages, and musical communication with angels and whales....to a run in with a demon. They meet up with their recently departed Grandfather, and his dog, who helps them return home.
Author: janet caulfield
Genre: Fantasy,Supernatural,Animation
A disgruntled Manager at the Unemployment office is having a really bad day. First there's the dirty Geese, then the slobs in the parking lot...and to top it off? One of his employee's is feeding them! It's a comedy expressso. A bold blend of "The Office and Seinfield with a shot of "How I met Your Mother."
Author: janet caulfield
Genre: Comedy
More WinningScripts ...