Updated: 04/27/2016
An alumnus of Columbia University, where he received his B.A. and M.A., Chuck Griffith studied television directing on the set of HBO's "Six Feet Under" with director Kathy Bates, and the single camera sitcom "Undeclared" on FOX with director Greg Mottola. Chuck also served as a producer for MTV's popular award-winning reality series, "Made" in 2007 and 2008.
Screenwriting Contest News
Filmmaker Shekhar Bassi has been named the winner of the Writers and Filmmakers Competition for his film, "NO LOVE LOST", and will now select the top script from top 10 screenplay submissions. [Updated: 04/27/2016]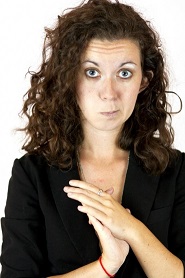 I don't know why you got into the business of writing, of grasping at words to explain the images in your brain, and editing within an inch of your life. For most, it's a kind of call, a transcendent purpose. Otherwise, who would chose to subject themselves to continual criticism, knowing their project will always need more work and never feel up to par? Not to mention the constant struggle to "make it" without anyone really defining what "making it" means, beyond an agent and a job on a show. (And once you get that, there's a whole bevy of problems beyond the wall.)

[Updated: 04/21/2016]
WILDSound has announced its 3 Feature Screenplay Winners for April 2016. [Updated: 04/20/2016]
Scriptapalooza Semifinalist Richard Willett, who wrote the 2015 runner-up screenplay THE FLID SHOW, has had his script 9/10 optioned by producer David Kassin Fried. [Updated: 04/18/2016]
The AURA Screenwriter Awards has announced the winners of the 2015 competition in the Feature Screenplay, Original TV Pilot, and Short Screenplay categories. [Updated: 04/12/2016]
MENAGERIE, by Diana Mitchell & Linda Mitchell, has been named the winner of the 2015 Fall/Winter Acclaim Screenwriting Competition. [Updated: 04/12/2016]
Winners for the Acclaim TV Fall/Winter Script Writing Competition have been announced. [Updated: 04/12/2016]
FilmMakers.com has named the finalists for the 14th Annual Filmmakers International Screenwriting Awards. [Updated: 04/11/2016]
Filmmakers.com has announced the winners of the 1st TV Script Writing Competition. [Updated: 04/07/2016]
Ginia Desmond's feature film LUCKY U RANCH, based on her PAGE Award-winning short film script GROWING PAINS, will premiere at the Phoenix Film Festival on Saturday, April 9.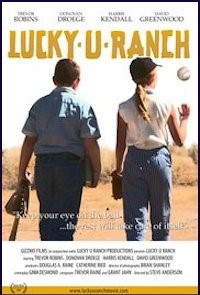 Set in 1953, LUCKY U RANCH is the story of 11-year-old Junior McCaully, who's ready to call it quits. Chubby, bullied, and stuck at a dead-end Arizona trailer court with his hardworking mom, nothing prepares him for the arrival of Melissa, a sophisticated Hollywood girl who changes everything. Directed by Steve Anderson and produced by Ginia Desmond and Douglas Raine, the movie features Trevor Robins, Donovan Droege, Harris Kendall, and Michael A. Candela in the starring roles. It was filmed on location in Tucson, Arizona. [Updated: 04/07/2016]
Partner
Subscribe to
WinningScripts PRO
to put your loglines and script excerpts in front of hundreds of industry professionals. From MovieBytes.com, the Internet's #1 site for screenwriting contest info.
WinningScripts: ScriptLinks
When the NFL's most feared linebacker gets forced into striking his best friend with a career-ending hit, he must clear his name by taking down the former-player-turned-extortionist who ruined him to win back his shattered dreams. ....................................................................................................................
Author: Dave Kraft
Genre: Drama,Action-Adventure,Sports
The Chief of Police solves the murder of a young woman while confronting the Sheriff, who blocks his every move for jurisdiction, in order to protect himself from the Chief finding out about his ties to the murder victim and the killer.
Author: Patricia Fox
Genre: Drama
The town was turning in to "Uncle Tom's Cabin." But the one thing they couldn't do, was claim executive privilege.
Author: David Seader
Genre: Drama,Thriller,Action-Adventure
Confronted with the dilemma of doing nothing or fight, a dedicated nurse takes unprecedented steps.
Author: Patricia Poulos
Genre: Drama,Family
Conquering fear, the doors open as a young woman is transcended into the Universe, returning with supernatural powers.
Author: Patricia Poulos
Genre: Family,Supernatural
God and The Devil are having a tug-o-war over a little earthling The Devil wants for his bride.
Author: Patricia Poulos
Genre: Thriller,Horror,Supernatural
A fearless warrior emerges to fight for a nation blinded by unseen forces.
Author: Patricia Poulos
Genre: Drama,Thriller,Supernatural
Satisfying their greed and lust, the crimes of the nation's most powerful men are uncovered and exposed by the littlest woman.
Author: Patricia Poulos
Genre: Drama,Thriller
*** Russian astronaut, thrown out of the space program, hijacks a space taxi going to the International Space Station. An intergalactic, Dangerous Liaisons, time warp, adventure to the future. It's THE MARTIAN collides with GRAVITY, and INTERSTELLAR *** *** It's INTERSTELLAR collides with GRAVITY, and NON-STOP.
Author: janet caulfield
Genre: Thriller,Action-Adventure,Sci-Fi
*** A veteran FBI Agent hires and develops a surprising bond with a young internet entrepreneur when he seeks his expertise in a week long rescue of a six year old girl taken hostage in a fall out shelter by a ruthless psychopath. New-Rewrite-It's LETHAL WEAPON, THE SOCIAL NETWORK, with a side of TAKEN.It's a whirlwind, week long rescue, set in New York, Washington DC, and San Francisco.
Author: Janet Caulfield
Genre: Drama,Thriller,Action-Adventure
More WinningScripts ...