Updated: 05/22/2019
The Launch Pad competition, in exclusive partnership with Good Fear Film + Management and Romark Entertainment, has announced the top 10 finalists for the 2018/2019 Launch Pad feature competition.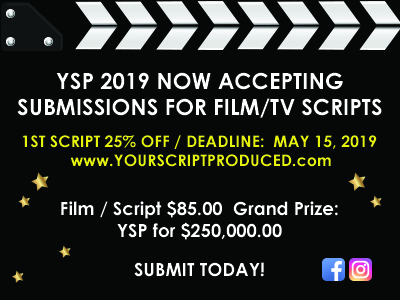 WinningScripts PRO
Spotlight
Script:
An FBI Agent wakes up with no memories in a post-apocalyptic New York City after an unknown catastrophe has annihilated all life on earth. Second Place, Screenplay Festival, 2018.
Screenwriting Contest News
[Updated: 05/22/2019]
Steve Feld's Take My Wife, Please has been named the winner of the Emerging Screenwriter's Shoot Your Sizzle Screenwriting Competition. [Updated: 05/10/2019]
Fox Hollow by Ariel Sobel has been named the Winner of the BlueCat Screenplay Contest for 2019. Benjamin Christopher won the Hour-long Pilot Category for his script Tenth Street, while Katie Blair was the Half-Hour Winner for her script, Clay. [Updated: 05/07/2019]
Austin Film Festival & Writers Conference (AFF), the premier film festival that champions the writers' contribution to film, television, and new media, has announced David Benioff and D.B. Weiss as the recipients of the "Outstanding Television Writer" Award at the 26th Annual Austin Film Festival, this October 24-31, 2019. [Updated: 05/06/2019]
BlueCat has named their top 5 Feature and TV Pilot finalists. [Updated: 04/30/2019]
Emerging Screenwriters has announced the Top 100 scripts of their 2019 Shoot Your Sizzle Screenwriting Competition. [Updated: 04/19/2019]
Women reigned victorious at the 2018-19 Fresh Voices Screenplay Competition this week with an all-star group of talented female writers dominating both the Drama and Family Film Categories. Leading them all, it was Skye Emerson's historical drama, CHALLENGER, that wowed the jury and took home the Grand Prize Award. [Updated: 04/12/2019]
ScreenCraft has announced the quarterfinalists from among roughly 2,500 submissions to their 2019 ScreenCraft Fellowship Competition. [Updated: 04/11/2019]
BlueCat has announced their 2019 Feature, TV, and Short Script semifinalists. [Updated: 04/11/2019]
Fresh Voices Screenplay Competition has named their 2018-19 Contest Finalists and Spotlight Award Nominees. [Updated: 04/01/2019]
A newly launched division of the Scriptapalooza Screenwriting Competition is now producing films utilizing the organization's relationships to attach funds and talent. [Updated: 03/27/2019]
Partner
allows you to rewrite and resubmit for free!
We offer 6+ pages of script development notes to improve your drafts and have 35+ top Film & TV Mentors who will read, meet & guide our winners! Huge industry access to all entrants. enter today!
www.finishlinescriptcomp.com
Partner
Subscribe to
WinningScripts PRO
to put your loglines and script excerpts in front of hundreds of industry professionals. From MovieBytes.com, the Internet's #1 site for screenwriting contest info.
WinningScripts: ScriptLinks
Biopic of the luminously beautiful but tragic 1950s film noir star Barbara Payton.
Author: Linda Boroff
Genre: Drama,Historical,Romance
In the Film Noir-rich landscape of 1949 California, a faithless Preacher in the midst of an identity crisis drifts into a world of hardboiled double-crosses, unsavory voices from the past, and crushing paranoia when he falls for a Black Widow who just murdered her husband for some of the right reasons.
Author: Devin Lucas
Genre: Drama,Thriller
In an attempt to save his broken family, a desperate father relocates them from Los Angeles to a small Colorado town where they meet a neighbor so obsessed with claiming top prize at the annual Harvest Festival, he'll stop at nothing to win.
Author: Justin Hurt
Genre: Comedy,Thriller,Horror
Protected and sanctioned by the parliamentary boys' club the highest 'white collar' criminal is untouchable , until a blonde bombshell in stainless steel unleashes a relentless tiger which, with razor-sharp-toothed-pen, sends him into oblivion.
Author: Patricia Poulos
Genre: Drama,Thriller
The Devil wanders the cold, dark, blackened corridors of Hell focused on the capture of God's chosen-one, for only she, can re-ignite its flames.
Author: Patricia Poulos
Genre: Fantasy,Horror,Supernatural
When an orphaned girl is adopted by her low-life aunt and uncle, they drive to a drug deal along with a young couple and get stranded on a supernatural farm where their morality is judged.
Author: Joe Borriello
Genre: Drama,Horror,Supernatural
Imagine going around the world under the sea onboard the world's most advanced submarine. It sounds like "20,000 Leagues Under the Sea," but it really happened. In this dramatic true story, an American nuclear submarine captain announces to his new, untested crew that their maiden voyage is now a far more dangerous top-secret mission - to make the first submerged circumnavigation of the Earth.
Author: Marc DeLamater
Genre: Drama,Historical
David is the manager of a small movie theater in which odd deaths are becoming a frequent occurrence – now, he just has to figure out what's causing them and make it stop before the detective pins the murders on him.
Author: Joe Borriello
Genre: Comedy,Horror
This one is pure Fun.!It's a genre buster, LA LA Land meets James Bond, meets All That Jazz and Cabaret! Asian American Black Belt goes undercover for the CIA, to help track down terrorists. Oh, and did I mention she's the Lead in a Broadway Musical? This is very musical, but there's a lot of action! This one is getting a lot of attention right now! The main Characters reside in New York, they are part of an international terrorist group.
Author: Janet Caulfield
Genre: Drama,Romantic Comedy,Thriller
*** Russian astronaut, thrown out of the space program, hijacks a space taxi going to the International Space Station. An intergalactic, time warp, adventure to the future.
Author: janet caulfield
Genre: Thriller,Action-Adventure,Sci-Fi
More WinningScripts ...