Updated: 11/15/2018
The Rubicon by Aminah Hughes has been selected as the winner of the 2018 ScreenCraft Short Screenplay contest.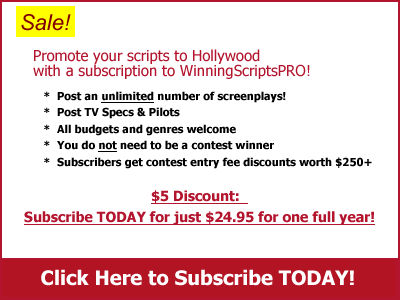 WinningScripts PRO
Spotlight
Script:
A burned out middle-age accountant and a young daredevil woman form an improbable alliance on a dangerous rescue-mission to Mexico. First Place, Screenplay Festival, 2017.
Screenwriting Contest News
Semifinalists been announced for the 2018 Write/LA Screenwriting Competition. [Updated: 11/14/2018]
The Austin Film Festival (AFF) has announced their 2018 Screenplay Contest Winners in all categories. [Updated: 11/13/2018]
Davia Carter was named a 2018 ScreenCraft Fellowship Winner on the basis of her TV pilot Double Time Dames, a one-hour drama set in the jazz age that tells the story of a brilliant female trumpeter who sheds her life of abusive men and attempts to start an all-female band as an Italian mob tries to stake their claim in her town. [Updated: 11/13/2018]
Shore Scripts has announced their contest finalists. Winners will be named November 30th. [Updated: 11/10/2018]
The Poe Contest has to announced the winner of its one-day Halloween script contest. "Demon Inside Me," by Brandon Rutherford, captured the $100 cash prize and an automatic advancement to the Poe Contest semifinals. [Updated: 11/10/2018]
Quarterfinalists have been announced for the 2018 ScreenCraft Pilot Launch TV Writing Competition, selected from about 2,500 submissions. [Updated: 11/09/2018]
Folklore by Sebastian Magiera has been named the Grand Prize Winner of the 2018 Finish Line Script Competition. Set in 18th century colonial America, the script is about a Spanish priest and a cursed enchantress who band together to prevent malevolent supernatural forces from destroying the lives of helpless villagers. [Updated: 11/09/2018]
Shore Scripts has announced the semifinalists in their Feature, TV Pilot and Short Categories. Winners will be announced November 10th. [Updated: 11/06/2018]
Georgina Love was named a 2018 ScreenCraft Fellowship Winner for her sci-fi feature Pig, which follows an experimental scientist as he raises a sentient pig as a mirror image of his terminally ill son. When the pig learns his "father's" plans have a sinister bent, he fights to resist the inevitable. [Updated: 11/05/2018]
Roadmap Writers has announced the Top 10 Pilot and Feature Finalists for their 2018 JumpStart Writing Competition. [Updated: 11/05/2018]
Scriptapalooza has released a list of the producers that have requested to read their recent TV contest winners. [Updated: 11/02/2018]
Partner
Subscribe to
WinningScripts PRO
to put your loglines and script excerpts in front of hundreds of industry professionals. From MovieBytes.com, the Internet's #1 site for screenwriting contest info.
WinningScripts: ScriptLinks
A young man sets out to learn about music and his life in the 1950's. He uses his guitar to navigate the road to fame and the bad circumstances which befall him.
Author: BRIAN J. WILSON
Genre: Drama,Action-Adventure,Historical
A second generation immigrant seeks opportunity in a jewel "heist". His family is involved in both the "job" and in furthering his "education".
Author: BRIAN J. WILSON
Genre: Drama,Thriller,Action-Adventure
A famous athlete tries to come to terms with fame and family. A satirical view of the current media and social climate.
Author: BRIAN J. WILSON
Genre: Comedy,Action-Adventure,Sports
Buck Sayers seeks spiritual reckoning amidst wildfires in Northern California. He enlists the help of a group of "refugees" to help him in his quest.
Author: BRIAN J. WILSON
Genre: Drama,Thriller,Action-Adventure
The Devil's only hope of saving Hell is to capture God's chosen-one but, it appears he has no hope, as she, does not accept he exists and is unaware she's God's chosen-one.
Author: Patricia Poulos
Genre: Fantasy,Horror,Supernatural
It's not your mother's buddy movie. It's a combo meal. It's a little bit of Lethal Weapon, Die Hard, The Social Network with a side of Taken. Experienced FBI Agent hires and befriends an internet entrepreneur to help rescue a six year old girl taken hostage in a fall out shelter by a ruthless psychopath. Winner LA film fest Best scene 2017.
Author: Janet Caulfield
Genre: Drama,Thriller,Action-Adventure
*** Russian astronaut, thrown out of the space program, hijacks a space taxi going to the International Space Station. An intergalactic, time warp, adventure to the future.
Author: janet caulfield
Genre: Thriller,Action-Adventure,Sci-Fi
This one is pure Fun.!It's a genre buster, LA LA Land meets James Bond, meets All That Jazz and Cabaret! Asian American Black Belt goes undercover for the CIA, to help track down terrorists. Oh, and did I mention she's the Lead in a Broadway Musical? This is very musical, but there's a lot of action! This one is getting a lot of attention right now! The main Characters reside in New York, they are part of an international terrorist group.
Author: Janet Caulfield
Genre: Drama,Romantic Comedy,Thriller
Kids and their dogs, find the rainbow bridge in a snowstorm. They teleport, fly, zoom through tunnels, and levitate, around this heaven-like universe.They have a lot of fun, but get a few surprises along the way, from messages, and musical communication with angels and whales....to a run in with a demon. They meet up with their recently departed Grandfather, and his dog, who helps them return home.
Author: janet caulfield
Genre: Fantasy,Supernatural,Animation
Locusts invade the building, the adherence schedules are off kilter, and one of the night managers is watching TV and preaching the word. Meet the staff of the Call Center where "the prisoners run the prison". But it's just a cup of coffee, for the merry go round of Managers in this wacky environment
Author: Janet Caulfield
Genre: Drama,Comedy
More WinningScripts ...