Updated: 02/18/2020
Tricia Lee's Mother-Daughter has been named the Grand Prize Winner of the 17th Annual American Zoetrope Screenplay Competition.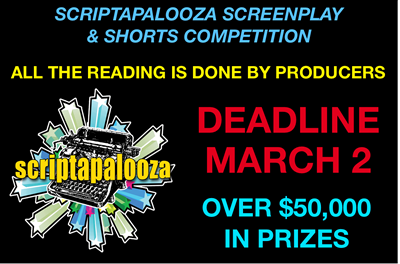 WinningScripts PRO
Spotlight
Script:
Fresh Voices Screenplay Competitition Grand Prize Winner: A small country town in middle America is plagued by a mysterious humming sound that only a percentage of residents can hear...
Screenwriting Contest News
The Killer Shorts Screenplay Competition has announced their 2020 quarterfinalists, the top 100 entries from a total of 765 submissions. [Updated: 02/14/2020]
Scriptapalooza TV has announced their latest Pilot, Sitcom, Drama and Reality Show contest winners. [Updated: 02/14/2020]
TVWriter.com has named their 2019 Comedy, Drama, and Special Bonus Award Winners. [Updated: 02/10/2020]
Jai Brandon has been named the winner of The Filmmatic Horror Screenplay Awards for his dark and edgy feature Whispers from the Watchtower, which features the host of a popular skeptic/debunking radio show as he works alongside a reluctant psychic in a hectic last-ditch attempt to find his missing daughter. [Updated: 02/06/2020]
Quarterfinalists of the 10th Annual Fresh Voices Screenwriting Competition have been announced, representing the top 353 scripts from 1,400 total submissions. Quarterfinalists can resubmit a revised draft of their script by February 6th, and semifinalists will be announced by March 5, 2020. [Updated: 01/29/2020]
Scriptapalooza has announced the six industry professionals who will serve as mentors to this year's award winners. [Updated: 01/27/2020]
Finalists have been announced in the Comedy and Drama categories of the 2019 People's Pilot TV Writing Competition. [Updated: 01/27/2020]
LiveRead/LA has named Natalie Higdon and Mads Gauger & Christan Mary Leonard as the winners of their next live read, to be held Monday, January 27th at 7.30pm at the Matrix Theatre in West Hollywood. MovieBytes readers are eligible for a $5 discount for the reading and the Q&A afterwards. [Updated: 01/17/2020]
Tracking Board has announced the 100 Finalists for the 2019 Launch Pad Feature Competition. [Updated: 01/16/2020]
Partner
The Finish Line Competition offers 6+ pages of script development notes to rewrite & resubmit new drafts AT NO EXTRA COST. 42 Industry mentors will read, meet & guide our winners (and semi-finalists!) ENTER TODAY!
www.finishlinescriptcomp.com
Partner
Subscribe to
WinningScripts PRO
to put your loglines and script excerpts in front of hundreds of industry professionals. From MovieBytes.com, the Internet's #1 site for screenwriting contest info.
WinningScripts: ScriptLinks
A young hairdresser and an unemployed sub-sandwich shop guy pull off a wild armored truck heist and take it on the lam South of the Border.
Author: Robert Tartell
Genre: Drama,Comedy,Action-Adventure
When a wealthy businessman and a waitress (each with an eight year old daughter) get married, they think they have the perfect family-unaware that their two darling angels are actually little menaces.
Author: Mandy Gales
Genre: Comedy,Family
When two roommates find their third roommate dead in his room they panic, realizing they could be suspects, then spend hours getting drunk letting their imagination go wild, until the authorities show up.
Author: judi Blaze
Genre: Comedy
Louis has been sober for years until he hops a bus for vacation where he meets a woman who steals his heart, and eventually his sobriety. Note: This script is the first episode in what will be a series. It is based on my short story that was awarded honorable mention in the Oregon Writers Colony Competition and a semi-finalist in the New Millennium Competition.
Author: judi Blaze
Genre: Drama,Romance
Two neglected toddlers look on as their new baby brother is taken from their motel room, as the mother watches. Baby's Gone is a short taken from my memoir, Riding in the Backseat with My Brother; currently a book but soon to be a feature screenplay. Just awarded semi-finalist for the New Millennium competition.
Author: judi Blaze
Genre: Drama,Family
When a loud woman on a bus inadvertently starts a full-fledged AA meeting, she gets more than she bargained for. When the bus stops for a dinner break, all hell breaks loose.
Author: judi Blaze
Genre: Drama,Comedy
With her husband out of town on business, Lisa plans to spend time writing, until a woman shows up at her door selling special face cream; from there everything gets dark and freaky.
Author: judi Blaze
Genre: Thriller,Horror,Supernatural
The bar is full but no one speaks or looks up from their texting, instead they stare down at their phones like zombies, until Jasper walks in and provides words for a muted soap opera on the large TV screen.
Author: judi Blaze
Genre: Comedy
Genre: Drama/Romance -Feature A passionate young woman loses her arm in a lover's quarrel and then prepares to face down her ex-husband who stalks her after being released from prison. The romantic thriller is set in the Northwest on the Puget Sound
Author: judi Blaze
Genre: Drama,Comedy,Romantic Comedy
When a small time private investigator gets a chance at the big time taking on a prominent politician's wife's case; neither realizes they are in way over their heads, the political party has been shadowing her, and will do anything to protect her husband, a presumed future presidential candidate.
Author: Russ Meyer
Genre: Drama,Comedy,Action-Adventure
More WinningScripts ...