Updated: 10/15/2019
The winners of the 2019 PAGE International Screenwriting Awards contest have now been announced, and this year's $25,000 Grand Prize was awarded to Michael Kogge for his powerful historical biopic ODYSSEY.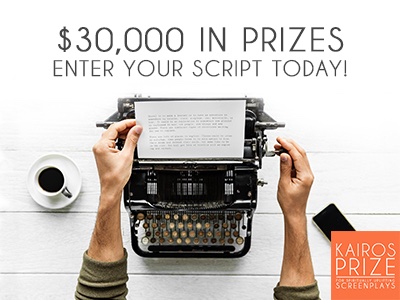 WinningScripts PRO
Spotlight
Script:
A burned out middle-age accountant and a young daredevil woman form an improbable alliance on a dangerous rescue-mission to Mexico. First Place, Screenplay Festival, 2017.
Screenwriting Contest News
The Write/LA Screenwriting Competition has named their 15 semifinalists for 2019. Finalists will be announced on November 1st. [Updated: 10/15/2019]
Scripapalooza has posted video interviews with their 2019 Contest Winners Tuck Tucker, Nick Roberts, and Steven Benedict. [Updated: 10/07/2019]
Semifinalists have been announced for the 2019 ScreamFest Horror Screenplay Competition. [Updated: 10/04/2019]
Fifty quarterfinalists have been announced for the 2019 Write/LA Screenwriting Competition. Fifteen semifinalists will be announced on October 15. [Updated: 10/01/2019]
Annie O'Connell & Reem Edan have been named the winner of the 2019 Filmmatic Comedy Screenplay Awards for their Pilot "The Degenerates". [Updated: 09/27/2019]
The Table Read My Screenplay Competition has announced Rachel Kempf's Dirty Words as the winner of a table read at this year's Austin Film Festival. [Updated: 09/18/2019]
The Austin Film Festival (AFF) has announced their 2019 Script Competition Semifinalists (top 2%) and Second Rounders (top 20%), chosen from a record field of 11,907 scripts entered in the Screenplay, Digital Series, Playwriting, and Fiction Podcast Competitions. Finalists will be revealed by mid-October and the winners will be announced during this year's Conference at the Awards Luncheon on Saturday, October 26 at the new LINE Austin Hotel, overlooking Town Lake downtown. [Updated: 09/16/2019]
The Judges of the 2019 PAGE International Screenwriting Awards have announced the top 10 Finalists in each of the contest's ten genre categories. [Updated: 09/15/2019]
Kerry Kolbe has been named the Winner of the 2019 CineStory Fellowship Competition on the basis of her script Swallow, about a 17-year-old girl who is desperate to study particle physics at Cambridge, like her hero Stephen Hawking. Unfortunately, she's trapped playing parent to her dysfunctional family of twitchers (a/k/a bird watchers), who drag her on a wild chase of her late mother's "spirit animal," a rare albino swallow. [Updated: 09/09/2019]
Tuck Tucker's Boy Most Wanted has been named the winner of the 2019 Scriptapalooza Screenplay Competition. Nick Robert's Jumping Into Hemingway's Pool was the 2nd place winner, and the 3rd place winner was The Girl Who Collected Sound by Steven Benedict. [Updated: 09/09/2019]
Partner
Subscribe to
WinningScripts PRO
to put your loglines and script excerpts in front of hundreds of industry professionals. From MovieBytes.com, the Internet's #1 site for screenwriting contest info.
WinningScripts: ScriptLinks
This one is pure Fun.!It's a genre buster, LA LA Land meets James Bond, meets All That Jazz and Cabaret! Asian American Black Belt goes undercover for the CIA, to help track down terrorists. Oh, and did I mention she's the Lead in a Broadway Musical? This is very musical, but there's a lot of action! This one is getting a lot of attention right now! The main Characters reside in New York, they are part of an international terrorist group.
Author: Janet Caulfield
Genre: Drama,Romantic Comedy,Thriller
A Veteran FBI Agent outsmarts a cult of young cyber crooks. The crafty FBI Agent with the help of a New York Company that specializes in security services and equipment, tracks down, hunts and arrests a syndicate of interns working in these cities. It's MAD MEN meets CRIMINAL MINDS.
Author: Janet Caulfield
Genre: Drama,Comedy,Action-Adventure
It's not your mother's buddy movie. It's a combo meal. It's a little bit of Lethal Weapon, Die Hard, The Social Network with a side of Taken. Experienced FBI Agent hires and befriends an internet entrepreneur to help rescue a six year old girl taken hostage in a fall out shelter by a ruthless psychopath. Winner LA film fest Best scene 2017.
Author: Janet Caulfield
Genre: Drama,Thriller,Action-Adventure
*** Russian astronaut, thrown out of the space program, hijacks a space taxi going to the International Space Station. An intergalactic, time warp, adventure to the future.
Author: janet caulfield
Genre: Thriller,Action-Adventure,Sci-Fi
Kids and their dogs, find the rainbow bridge in a snowstorm. They teleport, fly, zoom through tunnels, and levitate, around this heaven-like universe.They have a lot of fun, but get a few surprises along the way, from messages, and musical communication with angels and whales....to a run in with a demon. They meet up with their recently departed Grandfather, and his dog, who helps them return home.
Author: janet caulfield
Genre: Fantasy,Supernatural,Animation
Pilot: A group of benevolent aliens risk exposure to rescue one of their own and ensure the safety of a human cyborg engineered for a future mission to save Earth. Series: A teen cyborg engineered to develop a mind-altering computer game that could save humanity, battles a psychopathic CIA operative and a gang of alien marauders intent on pillaging Earth.
Author: Diana Black
Genre: Drama,Thriller,Sci-Fi
When a fortressed plantation operated by free people in the Deep South comes under attack, two former foes work together to seek help from the North.
Author: Diana Black
Genre: Drama,Historical,Supernatural
When your guardian angel may be the Devil's "right-hand-man" and you're a nice guy who's wrongly accused and imprisoned for life, revenge is a compelling game plan.
Author: Diana Black
Genre: Drama,Thriller,Fantasy
The Doors to God's Miracles are flung open wide for a young woman fighting fear transcending her into the Universe to return with supernatural powers, miracles and God speaks, with The Holy Spirit responding in her stead.
Author: Patricia Poulos
Genre: Fantasy,Family,Supernatural
The Devil wanders the cold, dark, concrete corridors of dripping black human residue contriving a plan to capture God's chosen-one, for only she, can re-ignite the flames of Hell.
Author: Patricia Poulos
Genre: Fantasy,Horror,Supernatural
More WinningScripts ...