Updated: 05/27/2015
Quarterfinalists have been announced for the 2015 StoryPros Awards Screenwriting Competition.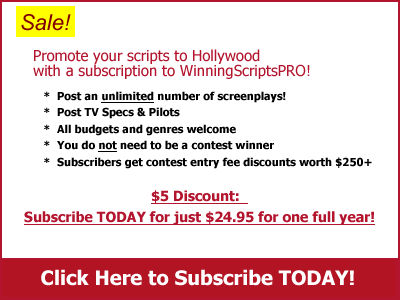 MovieBytes News
WILDSound has announced three First Scene Contest Winners for May, 2015 [Updated: 05/29/2015]
109 by William Beaumont has been named the Winner of the Season 6 West Field Screenwriting Awards. [Updated: 05/27/2015]
Two winners for this month. Watch the winning short screenplays performed by professional actors. [Updated: 05/24/2015]
The WILDSOUND TV Screenplay Festival has announced its May, 2015 Winners. Watch the 3 Winning Screenplay performance readings from the monthly screenplay festival. [Updated: 05/18/2015]
Quarterfinalists have been announced for the 2015 CineStory Retreat. [Updated: 05/15/2015]
The AURA Screenwriter Awards has announced the winners of the 2014 competition in the Feature Screenplay, Original TV Pilot, and Short Screenplay categories. [Updated: 05/15/2015]
WILDsound has posted the winning May 2015 Feature Screenplay performance reading. [Updated: 05/15/2015]
The Asbury Park Music in Film Festival has named named their 2015 Screenplay Contest Winners: Mark Steensland for "Jimmy the Freak" (Drama) and Randy Gross for "The Obligatory" (Comedy). [Updated: 05/08/2015]
FilmMakers.com has announced the finalists in the 13th Annual Filmmakers International Screenwriting Awards Competition. [Updated: 05/08/2015]
Ron Peer's When Flesh Burns has been named the First Quarter Winner of the Breaking Walls Thriller Screenplay Competition. [Updated: 05/01/2015]
The Nashville film Festival has announced the winners of the 2015 Screenwriting Competition. The competition garnered more than 1,350 submissions from all over the world. Finalists and semi-finalists won all-festival passes to attend the festival, network with filmmakers and industry, and attend educational panels and presentations. [Updated: 04/25/2015]
Partner
Feature Length Screenplays Short Scripts and Short Stories TV Writing for New and Existing Shows, including Game Shows, Reality or Extreme Shows, Miniseries, MOW, Webisodes, Digital Series, etc.
FilmMakers Int'l Screenwriting Awards
American Gem Short Script & Lit. Festival
1st TV Script Writing Competition
Submit your material today!
Partner
Subscribe to
WinningScripts PRO
to put your loglines and script excerpts in front of hundreds of industry professionals. From MovieBytes.com, the Internet's #1 site for screenwriting contest info.
WinningScripts: ScriptLinks
LOGLINE: When Dallas Cowboys' most feared linebackers' family is pulled from a dream into a nightmare by a blackmailing psychopath, to win them back he must risk losing everything with the greatest stakes of all. . . his faith. -- Sports Action Thriller ...............................................................................................
Author: Dave Kraft
Genre: Drama,Action-Adventure,Sports
Ted can't believe he must deal with two crazy women as gangsters chase the three of them through the city.
Author: john parker
Genre: Comedy,Action-Adventure
*** It's INTERSTELLAR collides with GRAVITY, and NON STOP *** Russian astronaut, thrown out of the space program, hijacks a space taxi going to the International Space Station. An intergalactic, Dangerous Liaisons, time warp, adventure to the future. *** It's INTERSTELLAR collides with GRAVITY, and NON-STOP.
Author: janet caulfield
Genre: Thriller,Action-Adventure,Sci-Fi
Local ordinance states: "Lawns must be mowed every 2 weeks", a suburban couple's only crime is not mowing their lawn (buried under snow) in December, the story follows their travails trying to save their home from being demolished by a monster we created: Government!
Author: Russ Meyer
Genre: Comedy
*** This one has won many HONORABLE MENTIONS *** It's not your mother's buddy movie! It's a combo meal It's LETHAL WEAPON, THE SOCIAL NETWORK, with a side of TAKEN. Experienced FBI Agent hires and befriends a young Internet Entreprenuer to help rescue a six year old girl taken hostage in a Fall Out Shelter by a ruthless Psychopath
Author: Janet Caulfield
Genre: Drama,Thriller,Action-Adventure
A mentally challenged teen uses a gun to escape a troubled home.
Author: Jamie Sutliff
Genre: Drama
In this small budget family movie set in Boston, Kenzie, ten, leads a group of kids that try to prove their grandfathers' innocence of the largest theft of artwork in history. Time is against them however as Kenzie's grandfather is close to death. Inspired by a true story.
Author: Steven Prowse
Genre: Drama,Family
A medieval army speeds towards an ancient evil that has arisen that grows stronger with each soul it takes. The same series of events as witnessed by seven different characters with each narrative being one of the Seven Basic Plots. Only once all the tales have been woven can the true tapestry be seen.
Author: Steven Prowse
Genre: Fantasy,Horror,Supernatural
Just weeks before a close Presidential election the Attorney General is murdered. The FBI form a special team, Excalibur, to investigate but they must tread a political tightrope between the two Presidential candidates. One is desperate for a resolution before Election Day, the other is determined they fail.
Author: Steven Prowse
Genre: Thriller,Action-Adventure
When two roommates find their third roommate dead in his room they panic, realizing they could be suspects, then spend hours getting drunk letting their imagination go wild, until the authorities show up.
Author: judi Blaze
Genre: Comedy
More WinningScripts ...