Updated: 03/07/2019
Semifinalists have been announced for the 2018-19 Fresh Voices Screenwriting Competition.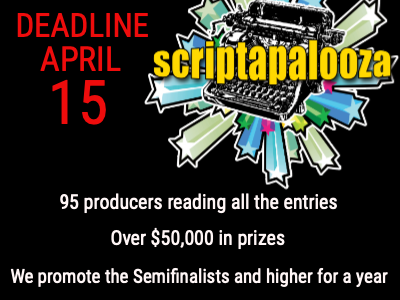 WinningScripts PRO
Spotlight
Script:
A burned out middle-age accountant and a young daredevil woman form an improbable alliance on a dangerous rescue-mission to Mexico. First Place, Screenplay Festival, 2017.
Screenwriting Contest News
Scriptation, the company behind the popular script app used on film and television productions worldwide, opened the call for submissions for its new screenwriting competition, the Scriptation Showcase. Fifteen winners' scripts will be featured for a full year in Scriptation, giving them unprecedented exposure to Hollywood professionals. [Updated: 03/12/2019]
THE BOOK OF JOEY by Steven Block has been named the TVWriter.com People's Pilot Comedy category winner, while THE FUCKING NEW GUYS by Meredith Bagby took top honors in the Drama/Action category. [Updated: 03/06/2019]
CineStory Co-Executive Director Carlo Martinelli catches up with the 2018 CineStory Fellowship second place winner, Avishai Weinberger. [Updated: 03/05/2019]
The People's Pilot television writing contest, from TVWriter.com, has announced the finalists of their 27th competition. [Updated: 02/27/2019]
Twelve producers have requested to read Scriptapalooza TV's recently announced contest winners. [Updated: 02/26/2019]
Robert Axelrod has been named the 2019 CineStory TV Fellow for his winning episodic spec comedy script BETTER THINGS - "Goy Vey", which impressed the judges by capturing the tone of the show while also showcasing the writer's own voice. [Updated: 02/22/2019]
Greg Silverman's new media company Stampede is partnering with the HollyShorts Film Festival, the Los Angeles-based short film festival, on a first-look feature film and TV series development program. (From the Hollywood Reporter.) [Updated: 02/19/2019]
CineStory has announced their 2019 Spec Drama, Spec Comedy, Original Drama and Original Comedy category winners. The first place winner of each division is now in the running for this year's TV Fellowship, which includes a $1,000 cash prize, free tuition and housing for this year's TV retreat, and a 12-month mentorship with 2 Hollywood professionals hand-picked to help the Fellow advance the Fellow's craft and career. [Updated: 02/14/2019]
Scriptapalooza TV has announced their latest Pilot, Sitcom, One-Hour Drama and Reality Category winners. [Updated: 02/14/2019]
TVWriter.com has announced the semifinalists for the 27th People's Pilot competition. Finalists will be announced in two weeks. [Updated: 02/13/2019]
The LAUNCH Million Dollar Screenplay Competition has announced it will accept global submissions for its second million-dollar screenplay competition from Friday, February 1st through Tuesday, April 30th, 2019. Once again, The LAUNCH will be looking for original screenplays with captivating stories, unique voices and honest emotion in any genre. The international competition is open to students over the age of 18 who are enrolled in an accredited two-year, four-year college/university or graduate program. [Updated: 02/11/2019]
Partner
allows you to rewrite and resubmit for free!
We offer 6+ pages of script development notes to improve your drafts and have 35+ top Film & TV Mentors who will read, meet & guide our winners! Huge industry access to all entrants. enter today!
www.finishlinescriptcomp.com
Partner
Subscribe to
WinningScripts PRO
to put your loglines and script excerpts in front of hundreds of industry professionals. From MovieBytes.com, the Internet's #1 site for screenwriting contest info.
WinningScripts: ScriptLinks
The crew of Earth's first starship journeys across the galaxy in search of extraterrestrial life, unaware that they're the stars of an intergalactic reality television show.
Author: Joe Borriello
Genre: Sci-Fi,Fantasy,Family
David is the manager of a small movie theater in which odd deaths are becoming a frequent occurrence – now, he just has to figure out what's causing them and make it stop before the police pin the murders on him.
Author: Joe Borriello
Genre: Comedy,Horror
When an orphaned girl is adopted by her low-life aunt and uncle, they drive to a drug deal with a young couple and get stranded on a supernatural farm where they begin to turn on each other.
Author: Joe Borriello
Genre: Drama,Horror,Supernatural
A geeky comic book writer promotes his comic book with the aid of a young prodigious girl and a band of nerdy kids after his superhero steps out of a portal and into his comic book store in search of his creator.
Author: Joe Borriello
Genre: Comedy,Fantasy,Family
A reclusive writer finds new lust for life when a friendly alien sends him on a dizzying journey through alternate realities.
Author: Joe Borriello
Genre: Action-Adventure,Sci-Fi,Fantasy
A reclusive young man gets more than he bargained for when he buys a possessed antique radio that turns him against his girlfriend and influences him into violence.
Author: Joe Borriello
Genre: Drama,Horror,Supernatural
A pocket-sized alien prince travels to Earth to open relations, only to discover his cousin is plotting his assassination to steal the crown and achieve galactic domination, starting with Earth.
Author: Joe Borriello
Genre: Sci-Fi,Fantasy,Family
Amidst the lush illusions of the Gilded Age, THE THIRD TIER follows a young woman from the New York City slums who avoids execution by becoming the sexual pawn of a politically ambitious judge, but she soon discovers that death may have been the better choice.
Author: Bonnie Hendrickson
Genre: Drama,Historical
Unusually accomplished teen stands between traumatized female murder witness and the Mafia for a week of fun, frolic, and death, in 1974. Tag: Sex, drugs & rock-n-roll meet sex, guns & mayhem. https://www.facebook.com/pg/TeenageBodyguard/photos https://www.scriptrevolution.com/scripts/the-teenage-bodyguard
Author: JZ Murdock
Genre: Drama,Thriller,Biography
A conflicted man and his niece must get help from a friend before killers catch them.
Author: JOHN PARKER
Genre: Action-Adventure
More WinningScripts ...