Updated: 03/26/2020
The International Screenwriters' Association has announced their 2020 Fast Track XI semifinalists.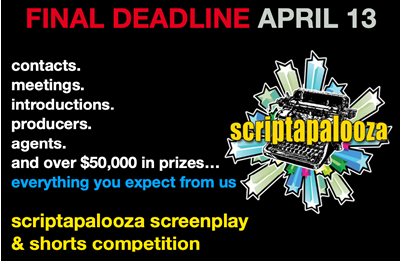 WinningScripts PRO
Spotlight
Script:
Fresh Voices Screenplay Competitition Grand Prize Winner: A small country town in middle America is plagued by a mysterious humming sound that only a percentage of residents can hear...
Screenwriting Contest News
Alex Payne's Deepfake has been name the overall winner of the 2019 Launch Pad Feature Screenwriting Competition. [Updated: 03/26/2020]
The BlueCat Screenwriting Competition has announced their 2020 Feature, TV Pilot, and Short Script quarterfinalists. Semifinalists will be announced on April 14th, 2020. [Updated: 03/17/2020]
Tony Cammarata and Dillon Magrann-Wells have been announced as the March Selections for LiveRead/LA, which this month - due to the Covid-19 virus - will feature a March 23rd "closed" reading with Industry Insider Sean Woods. [Updated: 03/13/2020]
Allen Roughton has been named the 1st Place Winner of The Killer Shorts Horror Short Screenplay Competition for his short script AN APPLE A DAY. CJ Whitehead has been named the 2nd Place Winner for THE NO-NO MAN, and Chris Hicks has been named the 3rd Place Winner for THE BUTTER STREET HITCHHIKER. [Updated: 03/13/2020]
Scriptapalooza has anounced a list of producers/managers who will review the contest's 12 winners and 12 finalists. [Updated: 03/10/2020]
Austin Film Festival (AFF) has announced that its original interview series, Austin Film Festival's On Story®, will premiere its 10th season nationwide in April 2020 on public television stations across the country. Available in more than 85% of U.S. markets, including New York, Los Angeles, Dallas, San Francisco, Washington, D.C., and Houston, On Story gives viewers an inside look at the creative process behind some of our most popular and beloved movies and television shows. Season 10 features recorded conversations between acclaimed and award-winning screenwriters, TV creators, and filmmakers from the 26th Annual Austin Film Festival & Conference. [Updated: 03/03/2020]
The Killer Shorts Horror Short Screenplay Competition has announced their 2020 Semi-Finalists, representing approximately the top 5% of all submissions. [Updated: 03/01/2020]
No Overnight Parking by Megan Swertlow has been named the Grand Prize Winner of the 2020 Shoot Your Sizzle Screenwriting Competition. [Updated: 02/25/2020]
Scriptapalooza TV has posted video interviews with a number of their 2020 TV contest winners and finalists. [Updated: 02/22/2020]
The Your Script Produced Screenwriting Contest has announced their second season judges in a two-page spread in the Hollywood Reporter. [Updated: 02/20/2020]
Tricia Lee's Mother-Daughter has been named the Grand Prize Winner of the 17th Annual American Zoetrope Screenplay Competition. [Updated: 02/18/2020]
Partner
The Finish Line Competition offers 6+ pages of script development notes to rewrite & resubmit new drafts AT NO EXTRA COST. 42 Industry mentors will read, meet & guide our winners (and semi-finalists!) ENTER TODAY!
www.finishlinescriptcomp.com
Partner
Subscribe to
WinningScripts PRO
to put your loglines and script excerpts in front of hundreds of industry professionals. From MovieBytes.com, the Internet's #1 site for screenwriting contest info.
WinningScripts: ScriptLinks
For thousands of years, evil has held influence over the Earth. A group of outcasts known as the Pariah have been tasked with vanquishing these demons back to the fiery gates of Hell. As some of the Pariah give into temptation, the distinction between good and evil becomes blurred.
Author: Andrea Gibson
Genre: Thriller,Fantasy
LOGLINE: As revolution rocks the colonies, Ben Franklin fosters the birth of a nation, an alliance with France, and a legacy called Kingbird. VERY BRIEF SYNOPSIS: The untold 18th century tale of the Philadelphia Franklins, and their struggle to forge an enduring American republic, as the family's revolutionary legacy passes contentiously from patriarch, Ben Franklin, to his namesake grandson.
Author: Don Adams
Genre: Biography
A successful businesswoman is oblivious of the tycoon's stealth of her assets, and he was unprepared for the relentless tiger within her with razor-sharp toothed pen sending him into oblivion.
Author: Patricia Poulos
Genre: Drama,Thriller,Biography
This one is pure Fun.!It's a genre buster, Fosse/Verdon meets James Bond, meets All That Jazz and Cabaret! Asian American Black Belt goes undercover for the CIA, to help track down terrorists. Oh, and did I mention she's the Lead in a Broadway Musical? This is very musical, but there's a lot of action! This one is getting a lot of attention right now! The main Characters reside in New York, they are part of an international terrorist group.
Author: Janet Caulfield
Genre: Drama,Romantic Comedy,Thriller
It's not your mother's buddy movie. It's a combo meal. It's a little bit of Lethal Weapon, Die Hard, The Social Network with a side of Taken. Experienced FBI Agent hires and befriends an internet entrepreneur to help rescue a six year old girl taken hostage in a fall out shelter by a ruthless psychopath. Winner LA film fest Best scene 2017.
Author: Janet Caulfield
Genre: Drama,Thriller,Action-Adventure
*** Russian astronaut, thrown out of the space program, hijacks a space taxi going to the International Space Station. An intergalactic, time warp, adventure to the future.
Author: janet caulfield
Genre: Thriller,Action-Adventure,Sci-Fi
A Veteran FBI Agent outsmarts a cult of young cyber crooks. The crafty FBI Agent with the help of a New York Company that specializes in security services and equipment, tracks down, hunts and arrests a syndicate of interns working in these cities. It's MAD MEN meets CRIMINAL MINDS.
Author: Janet Caulfield
Genre: Drama,Comedy,Action-Adventure
Kids and their dogs, find the rainbow bridge in a snowstorm. They teleport, fly, zoom through tunnels, and levitate, around this heaven-like universe.They have a lot of fun, but get a few surprises along the way, from messages, and musical communication with angels and whales....to a run in with a demon. They meet up with their recently departed Grandfather, and his dog, who helps them return home.
Author: janet caulfield
Genre: Fantasy,Supernatural,Animation
A disgruntled Manager at the Unemployment office is having a really bad day. First there's the dirty Geese, then the slobs in the parking lot...and to top it off? One of his employee's is feeding them! It's a comedy expressso. A bold blend of "The Office and Seinfield with a shot of "How I met Your Mother."
Author: janet caulfield
Genre: Comedy
Rose Ferguson just wants the family back she's never known. Unbeknownst to Rose, an ancient evil tries to make sure that reunion never takes place. When all seems lost, the one thing she always sought might be her only saving grace.
Author: Dallas Gibson
Genre: Thriller,Sci-Fi,Fantasy
More WinningScripts ...