Updated: 01/17/2020
LiveRead/LA has named Natalie Higdon and Mads Gauger & Christan Mary Leonard as the winners of their next live read, to be held Monday, January 27th at 7.30pm at the Matrix Theatre in West Hollywood. MovieBytes readers are eligible for a $5 discount for the reading and the Q&A afterwards.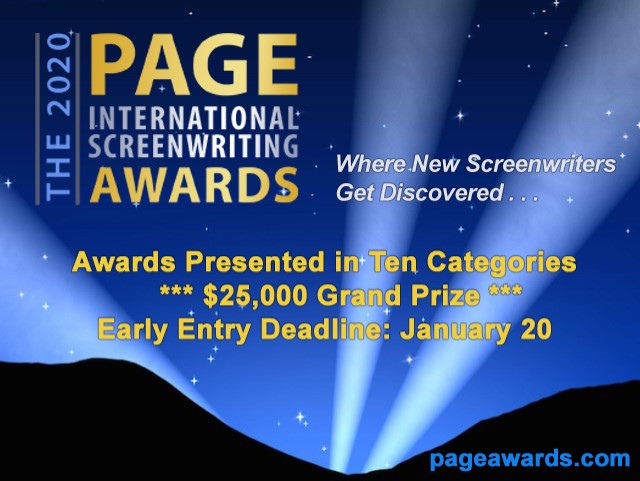 WinningScripts PRO
Spotlight
Script:
A burned out middle-age accountant and a young daredevil woman form an improbable alliance on a dangerous rescue-mission to Mexico. First Place, Screenplay Festival, 2017.
Screenwriting Contest News
Tracking Board has announced the 100 Finalists for the 2019 Launch Pad Feature Competition. [Updated: 01/16/2020]
The People's Pilot has announced their 2019 Comedy and Drama Semifinalists. [Updated: 01/13/2020]
[Updated: 01/11/2020]
Screenwriting contests are not a one-size-fits-all affair. While there are obvious benefits to winning a huge and prestigious competition like the Nicholl Fellowships, smaller contests can be just as valuable if they hook you up with a judge who wants to option your screenplay, or a manager who wants to represent your work. [Updated: 12/31/2019]
Survivors: B.S. by Julia Skikavich has been named the winner of the 2019 Emerging Screenwriter Award, and 7 other writers have also been honored for genre-winning scripts. [Updated: 12/20/2019]
Noah Kloor's Grand Illusions has been named the Overall Winner of the 2019 Launch Pad Pilot Competition for his period drama about a young factory worker longing to escape her difficult life who is drawn inexorably into the glamorous and dangerous world of a touring illusionist and his troupe. [Updated: 12/16/2019]
Cinestory TV has announced the quarterfinalists in their Original Drama, Comedy and Sci-Fi Categories, and the semifinalists in their Family category. The next round of results will be announced in mid-January. [Updated: 12/16/2019]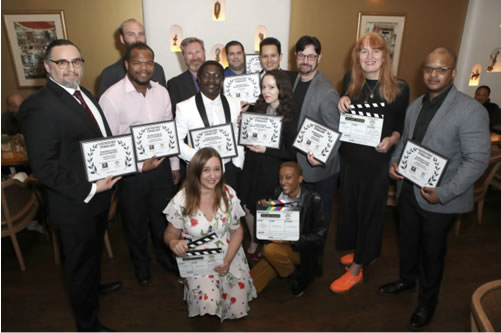 Your script Produced! International Film/TV/Short Screenplay Competition inaugural 2019 Season 1 Awards Dinner in Beverly Hills, CA November 8, 2019. [Updated: 12/05/2019]
Partner
Subscribe to
WinningScripts PRO
to put your loglines and script excerpts in front of hundreds of industry professionals. From MovieBytes.com, the Internet's #1 site for screenwriting contest info.
WinningScripts: ScriptLinks
Ellen receives a promotion into a male-dominate leadership position only to find that her career is soon threatened.
Author: Pam Green
Genre: Drama,Family,Urban
Ally and Edward get married, but must face the consequences at their wedding with their single, dating parents.
Author: Pam Green
Genre: Drama,Comedy,Romantic Comedy
Rodney Knockers, newly single, is ridiculed for his mishaps in both his work and social life, but struggles to find a way to prove himself worthy.
Author: Pam Green
Genre: Drama,Comedy,Romantic Comedy
Kendra falls victim to a horrifying skin disease, and while physicians label her psychotic, in her struggle to find her own cure, she discovers an underlying conspiracy.
Author: Pam Green
Genre: Drama,Thriller,Horror
A couple fights to save their home after violating local ordinance 583 'Lawns must be mowed every 2 weeks', even when buried under snow in December!
Author: Russ Meyer
Genre: Comedy
Forced out of his family home by an abusive father, trouble ensues and emotions are highly charged when an altruistic undergraduate takes a dangerous job logging in the rainforest where he and the anti-logging ecologist he falls for unwittingly challenge his ruthless boss and the thugs controlling the isolated town.
Author: Alfred (Al) Cool
Genre: Drama,Historical
A girl lost in the Alaskan wilderness meets her banished pet tiger — now fully grown. Together they survive many challenges — except, perhaps, one another.
Author: Con Kringas
Genre: Action-Adventure
When a wealthy businessman and a waitress (each with an eight year old daughter) get married, they think they have the perfect family-unaware that their two darling angels are actually little menaces.
Author: Mandy Gales
Genre: Comedy,Family
This one is pure Fun.!It's a genre buster, Fosse/Verdon meets James Bond, meets All That Jazz and Cabaret! Asian American Black Belt goes undercover for the CIA, to help track down terrorists. Oh, and did I mention she's the Lead in a Broadway Musical? This is very musical, but there's a lot of action! This one is getting a lot of attention right now! The main Characters reside in New York, they are part of an international terrorist group.
Author: Janet Caulfield
Genre: Drama,Romantic Comedy,Thriller
It's not your mother's buddy movie. It's a combo meal. It's a little bit of Lethal Weapon, Die Hard, The Social Network with a side of Taken. Experienced FBI Agent hires and befriends an internet entrepreneur to help rescue a six year old girl taken hostage in a fall out shelter by a ruthless psychopath. Winner LA film fest Best scene 2017.
Author: Janet Caulfield
Genre: Drama,Thriller,Action-Adventure
More WinningScripts ...