Updated: 11/14/2017
"Windows Wicked," an eerie story of an eight-year-old boy and an unseen creature clawing at his bedroom window, won The Poe Contest's 24-hour Halloween screenplay contest for Chicago writer Rob Herzog.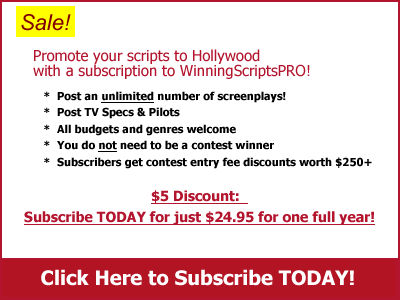 WinningScripts PRO
Spotlight
Script:
A CIA Operative with the psychic ability to see everybody's past faces terrorists that kidnap his loved ones and force him to use his powers against his country. 2017 StoryPros Awards, 1st Place Action/Adventure/Thriller.
Screenwriting Contest News
Shore Scripts has named their 2017 Feature, TV Pilot and Short Script finalists. Winners will be announced November 30th. [Updated: 11/10/2017]
Scriptapalooza is one of the longest-running contests on MovieBytes. We caught up with contest founder Mark Andrushko on the occasion of their 20th Anniversary. [Updated: 11/10/2017]
The Emerging Screenwriters Competition has announce their Top 100 Screenplays for 2017. [Updated: 11/07/2017]
Winners will be announced November 10th. [Updated: 11/07/2017]
WILDSound has announced their Screenplay Contest Winners for October, 2017. [Updated: 11/06/2017]
Barry Brennessel from Silver Spring, MD has been named the Best Screenplay Grand Prize Winner for this year's Flickers' Rhode Island International Film Festival (RIIFF) Screenplay Competition. Barry's winning screenplay is entitled "Anh Sang." [Updated: 10/31/2017]
The Austin Film Festival has announced their competition winners from a record field of 9,487 scripts entered in the Screenplay, Digital Series, Playwriting, and Fiction Podcast Competitions. [Updated: 10/29/2017]
Short Scripts has named their Feature, TV Pilot, and Short Script quarterfinalists. [Updated: 10/25/2017]
Scriptapalooza has posted video interviews with several of their Short Script Contest quarterfinalists and semifinalists. [Updated: 10/25/2017]
Roadmap Writers has announced K.T. Parker's script Distant Voices as the winner from among over 2,000 submissions to their Wise Words Writing Contest for writers over 50. [Updated: 10/20/2017]
Partner
Subscribe to
WinningScripts PRO
to put your loglines and script excerpts in front of hundreds of industry professionals. From MovieBytes.com, the Internet's #1 site for screenwriting contest info.
WinningScripts: ScriptLinks
A psychopath who is possessed by a woman his father entombed alive stalks his tormented sister for the entities reincarnation.
Author: William Sikorski Jr. & William Sikorski III
Genre: Thriller,Horror,Supernatural
An awkward elf becomes an unlikely hero when he is accidentally left behind on Christmas Eve and encounters the vile Santa Glum stealing Santa's gifts who has now kidnapped Mrs. Claus and with her the power to ruin Christmas.
Author: William Sikorski Jr. & William Sikorski III
Genre: Fantasy,Family,Animation
Logline: Green Beret Hunter-Killer Team Mission- Intercept the renegade SEAL team trying to rescue Jesus from the Cross and keep the 21st century from vanishing.
Author: James Sladack
Genre: Action-Adventure,Sci-Fi,Historical
Genre: Drama/Romance -Feature Logline: When barmaid and aspiring writer Monique catches her husband, Toad, with his latest romantic conquest, it leads to a chase which ends with Monique losing her arm.
Author: judi Blaze
Genre: Drama,Comedy,Romantic Comedy
The bar is full but no one speaks or looks up from their texting, instead they stare down at their phones like zombies, until Jasper walks in and provides words for a muted soap opera on the large TV screen.
Author: judi Blaze
Genre: Comedy
With her husband out of town on business, Lisa plans to spend time writing, until a woman shows up at her door selling special face cream; from there everything gets dark and freaky.
Author: judi Blaze
Genre: Thriller,Horror,Supernatural
When B.J loses his job as a reporter, he is forced to take a job registering the cognitively compromised to vote; or face the new government Municipal Authority camps for non-producers. This was a semi-finalist in American Gem Screenwriting Competition as Sign on the Bloody Line.
Author: judi Blaze
Genre: Drama,Comedy
When a loud woman on a bus inadvertently starts a full-fledged AA meeting, she gets more than she bargained for. When the bus stops for a dinner break, all hell breaks loose.
Author: judi Blaze
Genre: Drama,Comedy
Two neglected toddlers look on as their new baby brother is taken from their motel room, as the mother watches. Baby's Gone is a short taken from my memoir, Riding in the Backseat with My Brother; currently a book but soon to be a feature screenplay. Just awarded semi-finalist for the New Millennium competition.
Author: judi Blaze
Genre: Drama,Family
Louis has been sober for years until he hops a bus for vacation where he meets a woman who steals his heart, and eventually his sobriety. Note: This script is the first episode in what will be a series. It is based on my short story that was awarded honorable mention in the Oregon Writers Colony Competition and a semi-finalist in the New Millennium Competition.
Author: judi Blaze
Genre: Drama,Romance
More WinningScripts ...