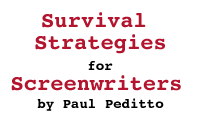 ARCHIVES
A Short Note For The Zach Braff Haters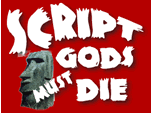 A Short Note For The Zach Braff Haters
Ok folks, time to talk about this Zach Braff Kickstarter Hatred.

First, a declaration: Believe me, I am no Zach Braff fan. I have never seen an episode of Scrubs, ok? Is he good on that show? Haven't a clue.

Yes, I've seen Garden State. Listen now to the wind that comes from the rise and fall of my shoulders as they shrug. Could give a damn about Garden State. Ain't a film for my generation, does not "speak to me" in any way.

He picked up some awards in 2004 for it though, didn't it? Independent Spirit Award for Best First Feature. Grand Jury Nominated at Sundance. And hey, don't undersell that Best Kiss MTV Award.

None of that hasn't anything to do with the Kickstarter hatred -- and I know you've heard it. I think my students were surprised when I took his side on this NON-issue. The opposition thinking (which perhaps is the consensus thought) is why should this movie star, someone who can stroll in through Hollywood's front gate, take meetings, raise millions, be courted by agents-managers-production companies ... why should this T O O L take to Kickstarter to raise cash for his next movie? And in doing so, fuck everybody else up who hasn't the access to the resources his obvious devestating talent has access to?

Is that what troubles you, folks?

I see so many arguments against him online, like this, and this. Here's one excerp:

He adds, "After I saw the incredible way 'Veronica Mars' fans rallied around Kristen Bell and her show's creator Rob Thomas, I couldn't help but think (like I'm sure so many other independent filmmakers did) maybe there is a new way to finance smaller, personal films that didn't involve signing away all your artistic control."

But the Web was not as impressed, failing to see the Hollywood star as the little guy. On Twitter, J. Chlebus @J_Chlebus asked, "In all seriousness, doesn't Zach Braff have enough Garden State residual checks to pay for its sequel?"

Thomas @tommykaboom added, "That's what I don't like about Kickstarter. Zach Braff could pay for his movie himself and still have $20 million left over."

The blog Celebuzz was also unimpressed, writing, "There is something particularly awful about professionals who have already risen to the near top of their field asking for handouts as if they can't get work any other way."

In fact, some have pointed out that although fans made the "Veronica Mars" funding happen, the movie will be made by the corporation Warner Bros., so it's hardly an indie project. And Braff is not exactly an underdog. Backers of his project will get a reward for their support but won't share in the profits, evoking even more ire.

Let me ask you this ...

Assume that you or a friend has a Kickstarter project. And you're working HARD just to raise $5,000 or $10,000. Do you believe that even twenty bucks of the money that could have gone to you went to Zach Braff? What evidence do you have to support that thinking?

You should go at this a bit more scientifically. Let's start with some Kickstarter statistics:

Successfully Funded Projects

Most successfully funded projects raise less than $10,000, but a growing number have reached six and even seven figures. Currently funding projects that have reached their goals are not included in this chart - only projects whose funding is complete.


| Category | Successfully Funded Projects | Less than $1,000 Raised | $1,000 to $9,999 Raised | $10,000 to $19,999 Raised | $20,000 to $99,999 Raised | $100 K to $999,999 Raised | $1 M Raised |
| --- | --- | --- | --- | --- | --- | --- | --- |
| All | 49,883 | 5,541 | 32,132 | 6,513 | 4,817 | 831 | 49 |
| Film & Video | 11,679 | 1,120 | 7,116 | 1,837 | 1,473 | 130 | 3 |


Folks, there is nothing here to indicate Kickstarter is a zero sum game. Let me repeat: The money sent to Zach Braff wasn't your money. If anything, having Zach Braff and other major Hollywood names like Spike Lee or Paul Schrader come into Kickstarter EXPANDS the pie for everyone. These numbers indicate dollar figures for the crowdsourcing site is only growing. Here's what Kickstarter themselves have to say on the subject:



The Truth About Spike Lee and Kickstarter

Last week, "The Newest Hottest Spike Lee Joint" reached its funding goal thanks to more than 5,000 backers. While filmmakers like Steven Soderbergh cheered Spike Lee's project, outlets like CNBC and Bloomberg accused him of abusing Kickstarter and taking money from other creators. As we've shown before, arguments like these are not grounded in fact. Kickstarter is not a zero-sum game where projects compete for pledges. All projects benefit from the network effect of a growing Kickstarter ecosystem.

Artists like Spike Lee don't hurt other projects. They help them!

Spike Lee brought three decades of fans to Kickstarter when he launched his project. He introduced many of them to this new way of funding creative works, and to the thousands of other projects that are funding on Kickstarter. Of Spike's backers, 47% had never backed a Kickstarter project before.

The Veronica Mars and Zach Braff film projects were similarly criticized for hurting other projects, but in reality were a windfall for creators. Those projects brought thousands of new people to Kickstarter who have since pledged more than $1 million to 6,000 other projects (film projects have received most of those pledges).

In the past 90 days alone, more than $21 million has been pledged to filmmakers on Kickstarter not named Rob Thomas, Zach Braff, or Spike Lee. Even without counting these projects, it's been the biggest three months for film ever on Kickstarter!



Almost five million people have backed a project on Kickstarter, and more than a million have backed two or more projects. These repeat backers are responsible for 59% of the total money pledged to Kickstarter projects - a whopping $444 million. On average, 2,130 people a day have become new repeat backers this year. This is huge! Future creators will benefit from more and more people using Kickstarter.

A staggeringly detailed breakdown of the Kickstarter numbers can be found here:

http://www.kickstarter.com/blog/blockbuster-effects

Want something a bit less dry than stats? How about this amazing Spike Lee interview where he defends his Kickstarter campaign.

http://concreteloop.com/2013/08/tv-bit-spike-lee-checks-reporter-over-kickstarter-criticism-you-dont-know-how-much-money-i-have

So, scientifically, by what logic can you justify Spike Lee and Zach Braff not having access to Kickstarter? Because they can take meetings and pitch projects to Hollywood that you can't? What makes you think Spike Lee has millions of dollars in the bank like chump change? Or can sell every project he pitches to Hollywood producers? What makes you think he wants to pitch to Hollywood producers? Sure, he's Spike Lee. Do you think that all development people just fall down and worship the guy when he comes in to pitch? He probably comes up against some very SQUAREheaded types. CORPORATEheads, all the way. It is probably a DRAG to be Spike Lee some days, and to have to pitch these COPORATEtypes.

Is there a single doubt that if Kickstarter was around when he was coming out with his first movie, She's Gotta Have It, that he wouldn't have gone the crowdsourcing route? Spike Lee is one of the original micro-budget guys. He just started too soon, in the pre-digital era.

While there isn't absolute empirical evidence that Zach Braff didn't take that $20 bucks that could have gone to you, the evidence is that these big name folks coming into Kickstarter are broadening the pie, bring in even more potential donors to your campaign, not shrink the pie.

Kickstarter isn't ruined. The first Kickstarter campaign to win an Oscar, Inocente, just won an Oscar for Documentary Short Subject in 2013. There are more of these projects to come.

http://www.wired.com/underwire/2013/02/kickstarter-first-oscar/

Take it from the glass half-empty guy, there's a time to look on the bright side. You can make $$$ on Kickstarter following some basics: Make yourself a great pitch video. Write good copy. Have some cool gifts. Set a do-able $$ goal mark. Email everyone you know. Hit every social network contact you have. Follow up with donor updates.

Cut Zach Braff a break.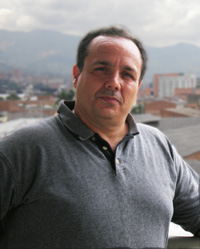 PAUL PEDITTO wrote and directed Jane Doe, an A-PIX Films release starring Calista Flockhart. The film was awarded Best Feature at the New York Independent Film & Video Festival and grossed over 2 million dollars.
Six of his screenplays have been optioned, among them Crossroaders to Haft Entertainment (Emma, Dead Poet's Society).
He has won semi-finalist honors at Nicholl Fellowship Screenwriting Awards and Slamdance.
Other imdb credits include Home In The Heartland, and The Group, which was accepted at multiple film festivals around the country.
Four of his stage plays have been published by Dramatic Publishing Company, two of which were presented on National Public Radio's "Chicago Theaters On The Air" series. Over 25 productions of his theatrical work have been performed in Chicago, Philadelphia, Los Angeles and New York. His adaptation of Nelson Algren's Never Come Morning won 9 Joseph Jefferson Citations including Best Play and Best Adaptation. His adaptation of Ben Hecht's 1,001 Afternoons In Chicago is a two-time Jefferson Award nominee. Pura Vida, a stage play based on his novel, was produced at Chicago's Live Bait Theater, earning a feature article in the New York Times.
He teaches screenwriting at Columbia College and Chicago Filmmakers, professionally consulting on thousands of screenplays since 2002. His book Writing Screenplays is now available for purchase.