Write To Rebuild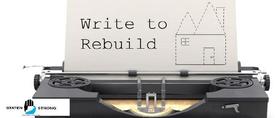 Contact
PO Box 90172
Pittsburgh, PA 15224
(412) 901-3048 (voice)

Web: http://www.w2r.org
Email: w2r@conprofilms.com

Contact: Ted Haynes, Director
Report Card

Overall:

n/a

(0.0/5.0)
Professionalism:

n/a

(0.0/5.0)
Feedback:

n/a

(0.0/5.0)
Signficance:

n/a

(0.0/5.0)
Report Cards:
0
Categories
Objective
Write to Rebuild (W2R) is a global screenwriting contest designed to shed light on the individuals and communities that survive natural disasters. The competition will not only provide writers with an opportunity to see the winning script developed into a produced short film, it will positively influence the lives of those impacted by Superstorm Sandy. All proceeds will go directly to the 501(c)3 non-profit The Boot Campaign to benefit the Staten Strong program which is designed to help those in need rebuild and recover their lives.
Deadline/Entry Fees
Expired. Previous Deadline: 03/31/2013
Notification: March 31st, 2013
Rules
The Submission must be received via email before 11:59 PM Pacific Standard Time on March 31st, 2013.
The submission must include an original script no longer than 7 pages (in PDF format), the e-receipt from the $35 (or $50) Staten Strong donation (made in the name of the entrant), and the completed application.
All submissions must be in English and should conform to the standard screenplay format.
If a screenplay has multiple Entrants, all authors of the Submission must be included as an Entrant, and each Entrant must agree to submit the Submission.
The Submission must be the original work of an Entrant, or, if the script is not an original work, the Entrant must be able to demonstrate to W2R that one or more Entrants have the rights to the work. A Submission will not be eligible for submission if it is based on other material, whether produced or unproduced, if an Entrant does not have the rights to that material, or cannot demonstrate that he, she, or they have such rights. This includes, without limitation, material based in any way on other media such as short stories, screenplays, teleplays, stage plays, movies, novels, biographies, or songs.
If a Submission has been previously produced, sold, optioned, or is currently under contract, or if an Entrant has received any other compensation for the Submission, it will not be eligible for submission.
A Submission may not defame or invade the publicity or privacy rights of any person, living or deceased, or otherwise infringe upon any person's personal, copyright or proprietary rights.
The Entrant's name, address, phone number, or any other identifying information should not appear on the title page or any other page of the script. Placing a Library of Congress or WGA registration number on the title page is acceptable but not required.
The final selection of fellowship winners will be made by W2R.
Only one copy, draft, or version of any screenplay may be submitted by an Entrant or entrants. Under no circumstances will substitutions of either corrected pages or new drafts of the entry screenplays be allowed. Multiple screenplays from the same writer are encouraged in the current competition, but must be submitted as separate submissions (with a $35 or $50 donation for each).
Acceptance of a prize constitutes permission (except where prohibited) for W2R to use the Entrant's name, likeness, biography, statements, and any other similar materials for marketing, promotional and publicity purposes without additional compensation or any limitation.
Awards
W2R will select one winning script to be produced as a short film including renowned actor Theo Rossi(Sons of Anarchy, Grey's Anatomy, Alcatraz) in a feature role.
The winner will also receive a kindle copy of "The Secrets of Action Screenwriting" written by W2R guest judge William C. Martell.
Also Queued
Writers who have queued this contest have also queued:
User Comments: Write To Rebuild
This page is restricted to registered members only.
First-time user? Register now to receive FREE email contest updates, news, results, deadline reminders and more. Rest assured, information submitted here is held in strict confidence. MovieBytes never sells or in any way distributes email names or addresses. We promise!
Login
Forget your password? Never got one? You can have one emailed to you immediately by clicking here.
News: Write To Rebuild
Zero news items found.
Interviews: Write To Rebuild
Zero interviews found. If you've finished first, second, or third in this competition, we'd like to interview you.