News, opinions, interviews and more from Hollywood and the screenwriting contest scene.
RECENT POSTS
Interview with ScreenCraft Fellowship Winner Davia Carter
Davia Carter was named a 2018 ScreenCraft Fellowship Winner on the basis of her TV pilot Double Time Dames, a one-hour drama set in the jazz age that tells the story of a brilliant female trumpeter who sheds her life of abusive men and attempts to start an all-female band as an Italian mob tries to stake their claim in her town.
Molded by her small, Missouri hometown and all the excitement that it offered -- none -- Davia's passion for writing spawned from a desire to entertain -- herself, first and foremost. This led her to the entertainment capital of the central southwest: Austin, Texas. While attending the University of Texas, Davia experimented with genres, writing everything from an ultra-action feature script to a female-driven period piece pilot, highlighting her versatility -- and perhaps a deep-seated fear of being bound to one narrative. Davia's writing has garnered praise from organizations like Humanitas, The Black List, and ScreenCraft, motivating her continued expansion of an already diverse and extensive body of work.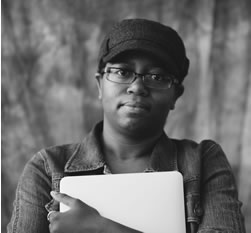 Q: What was the ScreenCraft Fellowship week like for you? What meetings did you take?
A: Fellowship week was absolutely insane! My fellow fellows and I met with executives at Netflix, Warner Brothers, Bad Robot, Fox and so many more. What was so great about these meetings -- other than getting personalized advice from some of the biggest and/or most seasoned names in the industry -- was that ScreenCraft did their best to tailor the meetings to each fellow. Since my focus is writing TV, ScreenCraft made sure to set up meetings for me with television creatives.
Q: What are your top three key takeaways from ScreenCraft Fellowship week and the meetings you had?
PEOPLE WANT TO HELP EMERGING WRITERS! This was definitely the most shocking thing I realized. The industry carries this stigma of shunning the emerging writer. In reality, there are a lot of people who are passionate about helping new writers. You just have to find the right people -- or be lucky enough to have ScreenCraft find them for you.
Have at least three projects ready to pitch. In all of the meetings, the fellows were encouraged to pitch a project, and a few times, I was caught off guard trying to think of the best project to pitch, depending on who we were meeting with.
Learn to sell yourself as a writer. That was the most difficult thing for me. I can be overly humble, which makes it difficult to pitch myself as a writer, but the ScreenCraft meetings made me realize that learning to pitch myself is just as important as learning how to pitch a story.
Q: How long had you worked on your winning script, DOUBLE TIME DAMES, and what draft number did you submit? What made you think that would be the one?
Prior to submitting my script, Double Time Dames, I had worked on it for about four months, and had written two drafts in that time. I suppose the reason I submitted this draft was mostly because the ScreenCraft deadline was approaching, and it was on my list of contests to apply to. But also, I loved this draft. I love this script. I had so much fun doing research for it and writing it and rewriting it. I'm overly critical of myself as a writer, but there was definitely a gut feeling that said, "This is a good one." So, I shared it.
Q: How long have you been screenwriting and why do you want to be a screenwriter?
A: I've been writing for about four years. I wish I had some deeper reason for pursuing it as a career, but my biggest reason is that I just love writing and I love TV, and I'm so lucky that there's a way to combine those into a career. As someone who squirms under the pressure of making the simplest of decisions out of an intense fear of regret -- maybe I should work on that -- the easiest decision I've ever made is to write. Breaking a story is often easier than figuring out what I want to cook for dinner. I can't envision any scenario in which I regret the decision to write. So, I guess that means this is what I'm meant to do. I hope.
Q: What's your most memorable moment from your ScreenCraft Fellowship week experience?
A: For me, the most memorable moments happened on the final day of the fellowship week. That day, we had an amazing meeting at Universal Studios -- it was so fantastic -- but the real highlight was after the meeting when the other fellows and I were saying our goodbyes after a week and a half of nonstop industry exposure. I felt so honored to have gone through this experience with them -- two insanely talented and hardworking writers. There was a great moment at the end when it was so clear that we had all not only expanded our industry repertoire but we had also gained an invaluable support system -- in each other and in the entire ScreenCraft family.
Q: What do you look forward to most in the coming months?
A: I most look forward to continuing to write and work on new projects; that's what I always look forward to. But also, I'm eager to try to get into some more meetings and put to use the advice and skills I got during fellowship week.
(Posted: 11/13/2018)