News, opinions, interviews and more from Hollywood and the screenwriting contest scene.
RECENT POSTS
Interview with ScreenCraft Fellowship Winner Brock Newell
Brock Newell was named a 2018 ScreenCraft Fellowship Winner for his feature screenplay Ravenous, a fresh take on the cabin in the woods horror genre, about a man who invites his new girlfriend on a camping trip with his friends, only to realize that she's a cannibal who intends to kill them all. Brock graduated from the University of Illinois at Champaign-Urbana with a degree in Creative Writing, and has been living in LA for 10 years by way of Chicago.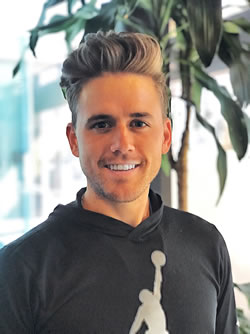 Q: What was the ScreenCraft Fellowship week like for you? What meetings did you take?
A: The fellowship was far more in-depth than I anticipated. I had meetings with JJ Abrams' Bad Robot, Netflix, Donners' Company, Millenium, Fox, WB and Universal, just to name a few. There were meetings with managers, studio execs, production execs -- and I was able to learn a ton about all aspects of the industry. Not to mention having my materials (and other projects I was able to pitch in the room), now in the hands of people who make dreams reality. That's what any writer ever hopes for: the opportunity to be read.
Q: What are your top three key takeaways from the ScreenCraft Fellowship week and the meetings you had?
I was able to learn how to work a room, and throughout the process I found ways to improve my pitching and how to put my best foot forward. That starts by being comfortable being yourself -- and like you've known the people in the room for many years.
Execs are people. They might seem intimidating because of their position, but at the end of the day we're all humans out here. Treat them as such.
Really find ways to distinguish yourself, find those unique things that make you, you -- and further, how do you convey that in your writing? You should be able to take the cover page off a script and know who wrote it.
Q: How long had you worked on your winning script, RAVENOUS, and what draft number did you submit? What made you think that would be the one?
A: I actually didn't work on Ravenous too long before submitting it -- I started with an outline and had my first draft within a couple months, then had a few relatively minor passes before submitting the draft to ScreenCraft. I actually submitted to Screencraft on a whim one day, so it was pretty gratifying to see it do so well. To be honest, I'm never content that a draft could be 'the one' -- there's ALWAYS room for improvement. So you just have to let it out into the world now and then, and be confident someone will believe in it.
Q: How long have you been screenwriting and why do you want to be a screenwriter?
A: I've been in LA 10 years, having come here to pursue screenwriting. I became a screenwriter because I always loved great stories -- be them from books, movies, or even video games. I think the film/TV medium is such an amazing way to experience stories, and since I was a kid (when I originally wanted to write film scores), I dreamed of a day where I'd sit in a theater while the entire audience was entertained by something I created. Hopefully this fellowship helps make that day come closer.
Q: What's your most memorable moment from your ScreenCraft Fellowship week experience?
A: Honestly one of my favorite moments was getting a response from a follow-up email from an exec at one of the best companies in the industry, saying they enjoyed the meeting and look forward to reading my material. And this happened multiple times.
Q: What do you look forward to most in the coming months?
A: I really hope to sign with a manager in the coming months, and as someone who has a ton of material ready to go, I'm really looking forward to working with someone who can see all my material, and give me the guidance to really help launch my career. I've made some great contacts through this fellowship, so I'd really like to capitalize on it as best I can!
(Posted: 10/23/2018)