News, opinions, interviews and more from Hollywood and the screenwriting contest scene.
On Winning the Austin Film Festival Script Competition, Part I
Caroline Hopkins is a high school English and creative writing teacher in Sacramento, CA and won Austin Film Festival's Drama Screenplay Award for her script Brokenhearted in 2017. This year, she was cited on AFF's "25 Screenwriters to Watch" list in partnership with MovieMaker Magazine (read her full interview here).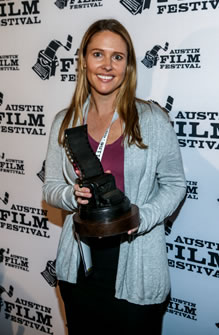 Are there actually writers out there who enter screenplay competitions thinking they might win? Because I am mostly certainly not that kind of writer. Call it beginner's luck, but I had never entered AFF prior to entering Brokenhearted in 2017. On the last day of the early entry deadline, I paid the very reasonable $45 entry fee hoping for nothing more than the Second Round and some free reader comments to boot. It's not that I haven't entered other screenplay competitions before because I have. But this was my first time entering Austin, and that was a big deal for me. Why didn't I enter Austin sooner? I was always aware that it was among the most well-respected and competitive screenwriting contests out there, but something always held me back. Perhaps it was the fear of rejection. Perhaps it was a dwindling bank account. Perhaps I'm just really good at making bad excuses.
So much of my journey with Brokenhearted feels like a happy accident. The idea sparked when I was suffering from a serious case of writer's block on another screenplay. I read an article in Vanity Fair called "Tinder and the Dawn of the Dating Apocalypse," and suddenly, this new idea appeared and I was ready to run with it. Usually, I need that creative gestation period—that time Mike White so appropriately refers to as the "open phase." But not with Brokenhearted. The characters manifested so quickly. I was convinced I could write the screenplay in a couple weeks. My prediction was a little ambitious. It ended up taking me five months from FADE IN: to CUT TO BLACK. (That other screenplay, the one I had writer's block with, I finished it just one month after that. The writer's mind works in mysterious ways.)
There's a far worse reaction someone can have to your screenplay than hatred, and that's indifference. For every person who read Brokenhearted and hated it, I had someone who loved it.
I knew I had something worthwhile with Brokenhearted, but I worried about the reception it would receive. I conceived of it as an anti-rom-com, tackling the friends-with-benefits trope with a more seething, more dramatic exploration of 21st century "swipe culture." I wasn't trying to please the audience. I wanted to slap the audience in the face. And slap them in the face I did. I had a few readers who seemed legitimately pissed off. They hated it.
This got me thinking. If someone is going to have such a strong, visceral reaction to a screenplay, maybe it's because I've struck a chord. Because there's a far worse reaction someone can have to your screenplay than hatred, and that's indifference. For every person who read Brokenhearted and hated it, I had someone who loved it.
I still never imagined Brokenhearted could win a screenplay competition. It was far too irreverent, too soul-crushing, too niche, too zeitgeist. And yet here I am, telling my crazy-but-true story of how this all came to pass. My Semifinalist placement was the motivation I needed to buy a discounted producer's badge and a plane ticket to Austin. I thought the journey would end there, and I was content.
When I got the call from Matt Dy, the Director of Script Competitions, about my placement as a Finalist, I couldn't believe it. But I kept my expectations low. I knew I wasn't going to win. When I read the loglines of the other screenplays still in contention, they were all so epic compared to mine. I definitely wasn't going to win. Even as I sat in my seat at the award ceremony, I was convinced. (I didn't even do my hair that morning because I was so convinced!) I wasn't going to win. And I kept believing that all the way up until the moment that Brokenhearted was announced as the winning screenplay. At which point, I thought I was going to pass out.
Every screenwriter—even the self-doubting, self-deprecating ones like me—have those moments, those illusions of grandeur moments, where I like to envision myself accepting the Academy Award for Best Original Screenplay. And as I was walking up to the podium to accept my super awesome Bronze Typewriter at the awards luncheon, I felt that rush of adrenalin, that natural, incomparable high. Maybe I wasn't accepting an Academy Award, but it still felt damn good. In case you were wondering, I didn't have a speech prepared. Why would I? I wasn't going to win.
Someone somewhere is going to hate your screenplay. But someone somewhere is going to love it, too. That's what AFF taught me.
Austin Film Festival isn't just a festival or just a screenplay contest, it's really a community. If I had to offer any advice to writers contemplating whether or not to attend the festival, then I would go ahead and trademark infringe upon Nike. Just do it. You won't regret it. The conference is a writer's mecca. The vibe isn't one of competition, but one of camaraderie. As amazing as my experience was in 2017, I do kick my (introverted) self for not going sooner. Don't wait until you're a Second Rounder or a Semifinalist or even a Finalist to make the decision. GO.
(Posted: 05/07/2018)