News, opinions, interviews and more from Hollywood and the screenwriting contest scene.
RECENT POSTS
ScreenCraft Fellowship Seeks to Foster Strategic Relationships

After meeting intially at Open Road Films, John Rhodes and Cameron Cubbison founded ScreenCraft in 2012. They currently sponsor six different genre-based competitions, a residency program in the Bahamas, and the Screencraft Screenwriting Fellowship, where up to four screenwriters are selected to receive mentoring and advice from a panel of industry pros. We caught up with Cameron to discuss ScreenCraft and their 3rd Annual Fellowship, which has a final deadline coming up on January 15th.
HollywoodIQ: Cameron, in the world of screenwriting competitions, ScreenCraft has made a pretty big splash in a relatively short period of time. What's the background of the organization?
Cameron Cubbison: ScreenCraft began in 2012 after a series of exploratory conversations between myself and my business partner John Rhodes. We met the year before at Open Road Films, where John was working in acquisitions and I was their sole script reader. I left for another development job but John and I kept in touch. Over lunch one day I pitched him the idea of starting an independent, humble consultancy where we could build a stable of specialized, exceptional readers and offer our development services both to understaffed production companies and development execs, and to aspiring screenwriters in need of making their screenplays industry-ready.
Being the energetic entrepreneur that he is, John immediately countered my proposal with a much grander and more intricate vision and away we went. Almost four years later, John and I still run ScreenCraft in tandem, with the invaluable help of my senior reader Jhan Harp and our army of hand-picked freelance readers. Recently, we also brought onboard Ken Miyamoto who was working at Quora, and filmmaker Emily Dell as our events producer. They've brought a lot to the table and are helping us better serve our audience with a number of new initiatives.
HIQ: So what's your title, and what does your job entail on a day-to-day basis?
CC: You know, I don't think I ever gave myself an official title, but I suppose it would be Director of Development or Contests Manager. Or Reader Wrangler, given that I recruit and manage ScreenCraft's team of industry readers and work closely with them to deliver development notes and feedback to ScreenCraft contest entrants and consulting clients.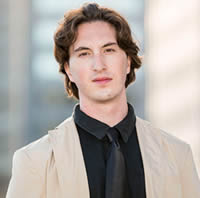 Cameron Cubbison, ScreenCraft
On a day-to-day basis I'm logging submissions across all of our contests and consulting offerings, updating our databases, answering emails from screenwriters around the world, discussing screenplays with Jhan and our team, and reviewing notes and delivering them to writers. And, of course, reading; I still take point on reading screenplays that come through our gates and read an average of 25-30 scripts a week, particularly if a writer specifically requests me for notes.
It makes sense, then, that my background in the industry is almost entirely as a reader. Before and in addition to ScreenCraft I've worked as a reader for studios, production companies, publishing companies, sales and acquisitions outfits, and agencies. Places like Lionsgate, Penguin Random House, Sundance Labs, UTA, Paradigm, ICM, Resolution, etc. And in my fresh-out-of-film-school days I worked above and below-the-line on features and series pilots, which has proven invaluable in being able to advise writers on optimizing their material for production.
HIQ: You guys currently have eight different contests listed on MovieBytes, including the ScreenCraft Screenwriting Fellowship, which has a January 15th final deadline. What is the difference between the Fellowship and some of your other competitions?
"Past scripts that have been selected for the Fellowship have been everything from period pieces to contemporary crime thrillers to black comedies to serialized drama pilots and horror."
CC: Whereas ScreenCraft's suite of genre-specific contests focuses primarily on specific screenplays, the Fellowship is focused on specific writers. In addition to gravitating toward a specific project, we want to examine a writer's whole portfolio and background. This is because the Fellowship is an intensive, ongoing program in which we gather the selected writers in Los Angeles for a week of meetings and mentoring sessions that are designed to get them the support system of strategic relationships they need to actively advance their careers. This year's mentors include Academy Award-winning screenwriters, top producers and literary managers.
HIQ: Does your Fellowship winner need to live in Los Angeles? Part of the final selection process is a phone interview. What are you hoping to learn from your applicants?
CC: Fellowship winners do not need to live in Los Angeles. Several of our past Fellowship recipients came from other parts of the world, although several moved to Los Angeles after winning. With the phone interviews, we want to get a sense of applicants' personalities and demeanor. We want to learn that they're passionate and motivated about screenwriting, that they have a lot of stories they want to tell and an overall point of view. And in industry parlance, we want to make sure that they have the ability - whether it be readily apparent or latent - to be good in a room, to be able to pitch themselves and their projects and have initiative they can bring to the table.
HIQ: Most of your competitions are genre-specific, but the Fellowship is not. Is there a particular kind of screenplay or sensibility that you'll favor in your selection process?
CC: The Fellowship is intentionally genre agnostic so that our team can be free to just respond to any screenplay that grabs them and demonstrates a command of craft fundamentals, and a distinctive voice. Past scripts that have been selected for the Fellowship have been everything from period pieces to contemporary crime thrillers to black comedies to serialized drama pilots and horror.
HIQ: The list of mentors on your Fellowship website includes some pretty impressive names (Geoffrey Fletcher, Diana Ossana, Robert Moresco, Lawrence Grey, Ari Lubet). What is the relationship between ScreenCraft and these folks, and what can your Fellowship winner expect from them in terms of meetings, advice, etc.? Are the mentors involved in the judging process?
CC: These creatives have generously dedicated their time to meet with and mentor the Fellowship recipients. We sought them out specifically and were so fortunate that they enthusiastically chose to participate. ScreenCraft will be taking point on judging but will be presenting the mentors with top candidates for their input. Then, once the Fellowship recipients have been selected, these mentors will be able to advise Fellowship recipients from every perspective, from script development to the ins and outs of working as a professional screenwriter, to what kind of material agents and managers look for and what they look for in clients, to getting writing assignments and selling projects. It's also entirely possible that a formal business relationship may be formed between any number of these mentors and the Fellowship recipients.
HIQ: How many entries do you expect to receive, and how many Fellowships will you award?
CC: We received north of 2,000 submissions last year and are expecting to exceed that number slightly this year. We'll award up to four Fellowships; it's entirely dependent on the material we receive and how we respond to it.
HIQ: Please walk us through the judging process. How many rounds of competition are there, and who are the judges for each round? Will contestants receive feedback? What are the qualifications to become a judge for ScreenCraft?
CC: To get to the finalists pool, there are four rounds of competition, and every submission receives a minimum of two reads at every round that are weighted together. If initial reader evaluations vary wildly - which is rare - another reader will come in - often myself - to review and discuss the project and arrive at a consensus as to whether or not it moves forward. Once we have a targeted finalist sample - around fifty projects, including both features and pilots - that's when the extended deliberations and discussions begin.
"I believe that diverse human perspectives need to be sought out and embraced onscreen and behind the scenes, and at ScreenCraft we certainly strive to celebrate diverse stories and perspectives."
Judges for each round include myself and Jhan Harp and the rest of ScreenCraft's reading pool. All of our readers and judges are handpicked by me. Many are colleagues I worked with before starting ScreenCraft, and many other readers have been with us since the beginning. Every reader must have references and a minimum of two years reading for agencies or production companies, or they must be working creative executives or produced screenwriters.
Whereas there are some competitions that employ different tiers of readers that are weighted differently in terms of their recommendations (e.g. first round readers don't participate in scripts that make it further up the competition ladder), our readers work fluidly throughout the evaluation period. The goal is to have as democratic a system as possible, and to ensure that readers are given the same amount of trust and supervision because they are giving the same amount of attention and dedication throughout.
Entrants are able to purchase reader feedback at the time of submission up until the regular deadline on December 30th. Feedback is not available during the late entry period that runs Dec. 31st through Jan. 15th.
HIQ: Diversity - or the lack thereof - has become a big issue in the film industry. Do you feel any responsibility to make sure that your Fellowship and other contest winners represent a diverse population of writers? If so, what steps have you taken to advance that objective?
CC: Diversity is an incredibly important issue in the industry, and thankfully it has garnered long overdue focus and attention in the past year. We're at the point now where even studios and A-list filmmakers are being held publicly accountable for their casting decisions.
Similarly, there are a number of stellar career advancement programs for screenwriters that have clear diversity mandates and requirements. The Fellowship isn't specifically focused on diversity; ultimately we're looking to be wowed by a project and a writer's portfolio, and we're looking to instinctually feel that they will be developable and that we can put them in meetings with our mentors and top agents and managers. We care about creativity, point of view and personal history but we strive to be blind to ethnicity and gender by hiring readers with diverse backgrounds. We aren't going to penalize or prioritize a writer based on their ethnicity or sex. Talent, work ethic and industry potential are the criteria we're focusing on.
I believe that diverse human perspectives need to be sought out and embraced onscreen and behind the scenes, and at ScreenCraft we certainly strive to celebrate diverse stories and perspectives.
HIQ: This is your 3rd Annual Fellowship Competition. Can you tell us about your winners from years one and two? Any success stories? Have these writers been able to advance their careers?
CC: Absolutely! This is our favorite part. All three inaugural Fellowship recipients were signed shortly after their week of meetings through the program. T.A. Snyder signed with Jeff Portnoy, who was an agent at Resolution and is now a manager at Bellevue Productions. Rob Haffey landed a manager and is repped at ICM, and Amanda Parham signed with Paradigm Talent Agency and Anonymous Content. They all have projects in development with major producers.
Last year, Fellowship recipient Mark Stasenko signed with Ari Lubet at 3 Arts Entertainment, the management and production company behind such shows as ORANGE IS THE NEW BLACK, BROOKLYN NINE-NINE, SILICON VALLEY, PARKS AND RECREATION, 30 ROCK, THE MINDY PROJECT, LOUIE, IT'S ALWAYS SUNNY IN PHILADELPHIA, and more. Clients of 3Arts Entertainment include such legends as Tina Fey, Amy Poehler, Aziz Ansari, Louis CK, Maya Rudolph, Kevin Hart, Mindy Kaling, George Lopez, Matt LeBlanc, BJ Novak, James Franco, Charlie Day, Ray William Johnson and many more.
ScreenCraft Fellows Jeffrey Field and Kevin Taft have received lots of attention for their projects and have gone on to win or place at such notable contests and programs as Slamdance, Austin, Nicholl, and the Nashville Film Festival.
Gaining traction as a screenwriter is a long journey, and that's why the Fellowship is designed to be an ongoing program; it's an initiative in which ScreenCraft seeks to form personal relationships with great writers and to champion and support them however and whenever possible as they grow in their careers.
(Posted: 12/01/2015)